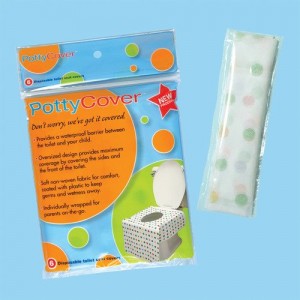 "Mommy, I have to go potty!"  The one phrase that makes my skin curl when we are out.  All I can think of is all the germs and gross encounters in a public bathroom.
Problem Solved!  Here's the PottyCover.  It covers the sides and front of the toilet not just those little doughnut things that slide all over.  "Double layered with soft non-woven fabric on top, coated with a layer of plastic on the bottom to keep away from germs and wetness."  So, now you and/or your child can actually sit on the toilet when you are out.  Each PottyCover is individually wrapped, so you can toss some in your diaper bag or purse.  These cannot be flushed, you'll need to toss them in the garbage when you are done.  Don't forget to wash your hands!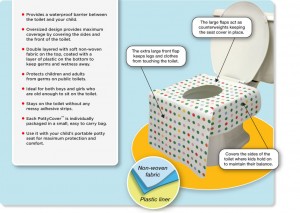 The PottyCover is available online at Amazon.com, Ebay.com, Bed,Bath & Beyond, and Buy Buy Baby (also available in the store).
PottyCover Review
I want to buy these by the dozens!  What a great idea!  We went out to breakfast with extended family and my daughter (3 years old) needed to use the potty.  It was a stress-free ordeal!  I just put the PottyCover on and she was able to sit and hold on without me trying to hold her.  No more wrestling with toilet paper trying to cover the seat.  Anyone can use these not just your kids.  I need to stock up!
Faith and Family Reviews received the following product in exchange for writing a review. While we consider it a privilege to receive free products to review, our reviews are our honest opinion and thoughts of the product.
Share and Enjoy