I was recently given the opportunity to review a Sibu Beauty product called Sea Buckthorn Revitalize & Renew, a liquid supplement for skin, hair and nails. I loved the look of the company and their commitment to sustainability and environmentally friendly practices.
Sibu Beauty
Sibu Beauty products all started with a meeting between Sibu's founder, Bruce McMullin and an ayurvedic specialist (which is Ayurveda, which literally means "The Science of Life," is an ancient healing science from India Source) in Calcutta, India. This specialist told Bruce about a "powerful holy fruit, the Sea Buckthorn berry" and Sibu was founded in 2003.
Sibu has a complete line of products including: facial cream, body cream, balancing facial cleanser, hydrating serum, replenishing night cream, sea buckthorn seed oil, age defying eye cream and a bar of facial soap. Products range in price: $6.95-$50.90. They even have a couple new products not in their brochure.
All of Sibu's products are chemical free, contain no artificial flavors or colorings and no preservatives. The company seeks to use the sea buckthorn berry responsibly and in a sustainable manner. Sibu Beauty also practices fair trade in that they offer fair wages to the people of Tibet who harvest the berries, environmentally safe processing techniques and healthy, safe working conditions. (Source: Sibu's product brochure & website)

The company's founder is committed to giving back to charity, which you can read more about on their website under the "Giving Back" tab.
Sea Buckthorn Revitalize & Renew
Sea Buckthorn is suppose to improve skin tone and texture, supports hair and nail growth. It is full of Omega 3, 6, 7 & 9 fatty acids. Omega 7 is rare, but supposedly vital for cellular support. It is also a powerful free radical scavenger.
Ingredients: Besides the Omega fatty acids, sea buckthorn fruit puree, apple juice from concentrate, white grape juice from concentrate, acerola fruit juice from concentrate, evaporated cane juice, banana puree, sea buckthorn oil seed oil, natural flavors, pectin, xanthan gum.
Sibu Beauty Review
I am pretty skeptical by nature, but have had such a dry face this winter that I was willing to try anything to help alleviate the flakes and scales! I received a 25.35 fl.oz. bottle of the Sea Buckthorn and started taking it….oh nearly a month ago, I guess. I have taken a tablespoon or so each day, pretty consistently but have missed days and think there might be just the slightest change, maybe. Definitely no overnight differences or incredible results by any means.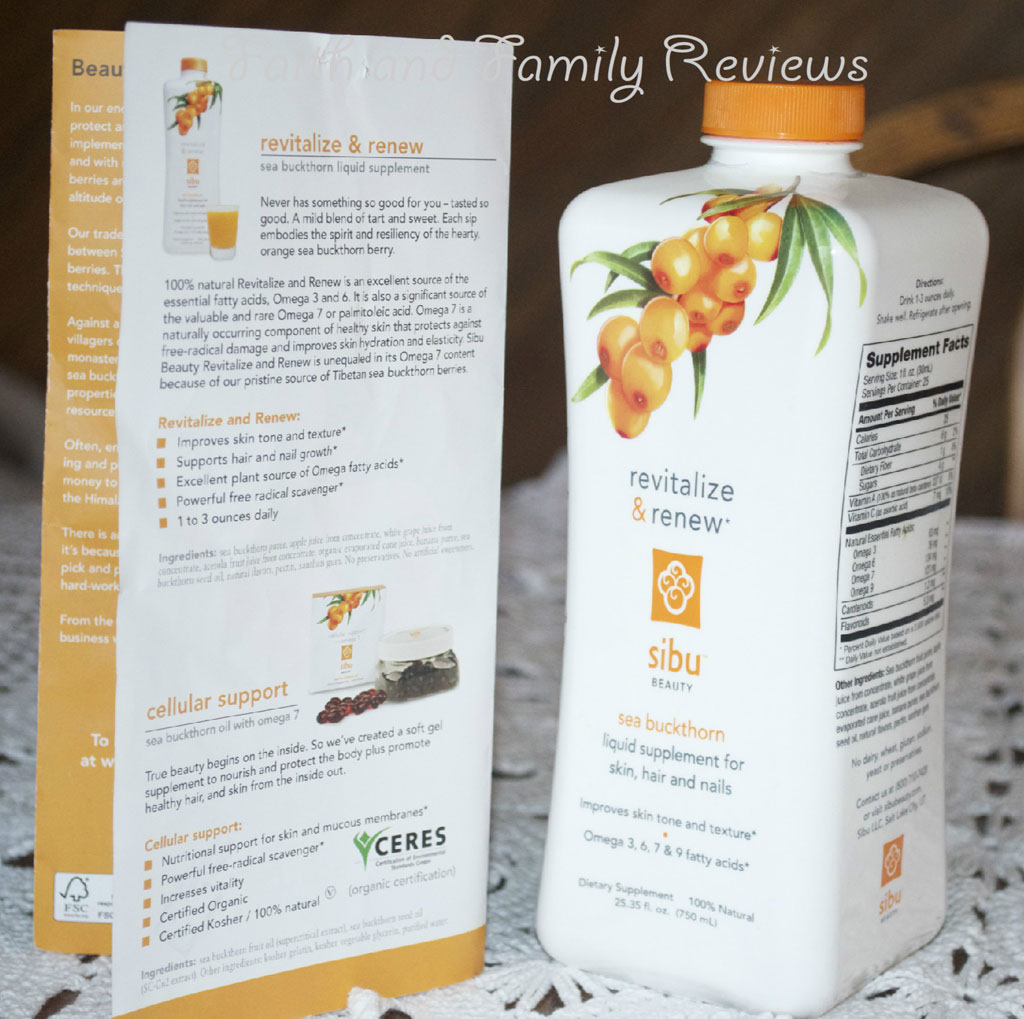 By my last tablespoon, which I took yesterday, I think I was finally getting use to it's unusual flavor. I am not a huge peach or apricot fan and I would have to say that Sea Buckthorn reminded me of a mix of those two fruits. I would literally shiver after drinking it, but I persevered because I wanted to be able to give an honest review of how well it worked. I could have easily given up the first day!

Just goes to show that if you keep trying a food/drink you can start to kind of like it, even if you didn't in the beginning.
I like the idea of this product, but the ingredient "natural flavors" is always something hidden. While the ingredients are not organic, two of these products have a low score on EWG.org (Environmental Working Group's Skin Deep Cosmetic site), so that is very good. The other products were not showing up in the database.
Overall, this was an ok product and I am glad I tried it. However, ultimately I think beauty products are a personal choice and we have to find what works best for us. For more information about this product please visit: www.SibuBeauty.com
Sale & Discount
Right now they have a sale going on until tomorrow night:
20% OFF Sitewide + Free Shipping!
Use coupon code SIBUDEAL20 on checkout.
Free shipping offer excludes Sibu Raw. Offer ends March 31st.
Share and Enjoy