Have I mentioned before that we love pizza? Well, we do. Usually we make our own homemade pizza, but we will order out on occasion. We rarely will buy frozen pizza unless we get it on sale and have coupons or something, just because we know we can make what our family inhales…er…eats cheaper at home. We have been trying to buy as much organic as possible.
Annie's Homegrown Organic Pizza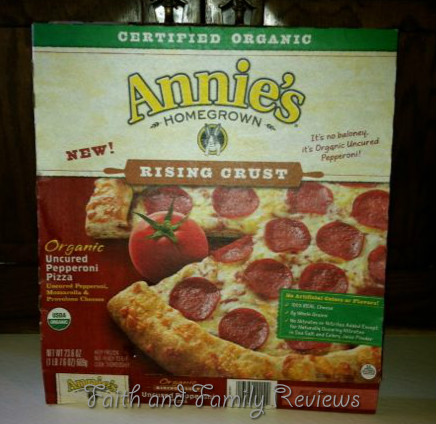 Annie's Homegrown Organic Pizza comes in four different kinds: Uncured Pepperoni, Four Cheese, Supreme, and Spinach & Mushroom. These pizzas have a rising crust and wholesome organic ingredients, such as 100% real cheese, made with milk from cows not treated with the growth hormones, meats with no nitrates, except for naturally occurring nitrates in sea salt or celery juice powder.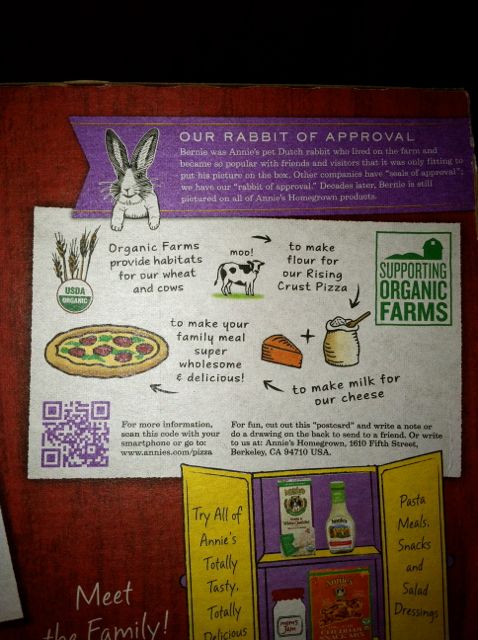 It is a fairly quick meal to make taking 25 minutes or less. The longer it is baked the crispier it will be, so bake according to how you like your pizza!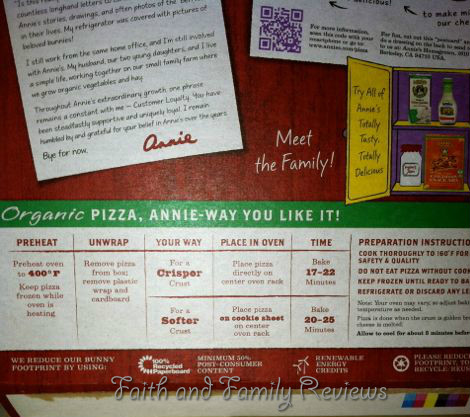 My Review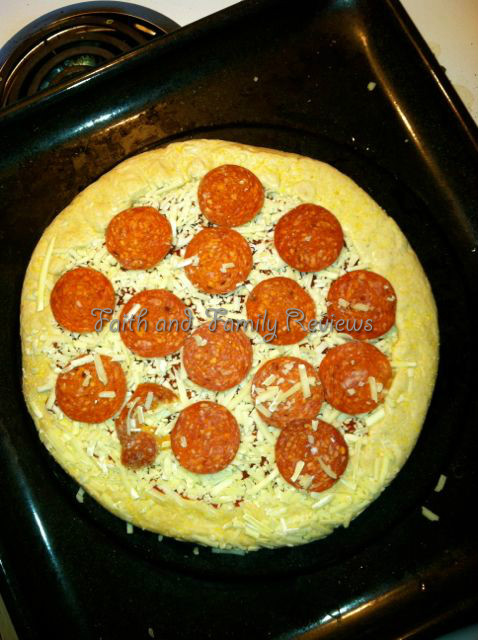 Before baking. Our pizza was thawed and I did not take that into consideration when baking, thus we got crispy pizza as you can see from the photo below.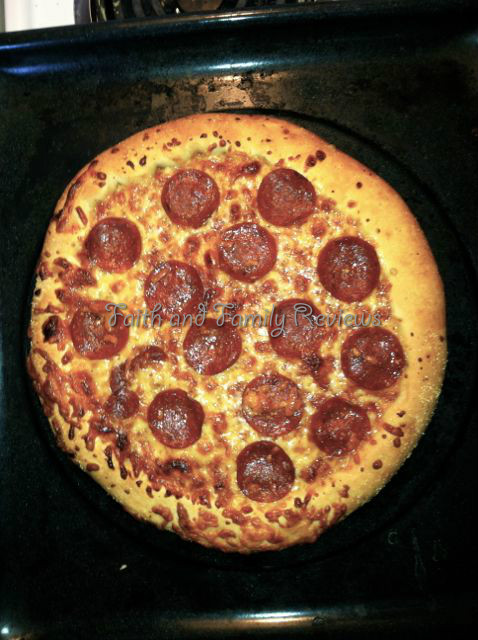 I think we have only ever tried Annie's bunny crackers and fruit snacks before we tried this pizza. I was excited to hear they had an organic frozen pizza and I have to say that is probably one of the better frozen pizzas I have eaten. My husband brought home Pepperoni. It was very good. It wasn't as greasy as pizzeria pizzas nor was it the same size as a family sized pizza that we normally get at a pizzeria. This pizza only fed half our family. I chose to have it for a meal two weeks ago while my husband and older children were away at a conference. That was a little disappointing, but I also realize that most families are not our size. However, it only served us two little slivers each. Definitely needed a salad or another side dish for growing little tummies. Good thing I had the younger crew to feed it to!

Nevertheless I would highly recommend the pizza itself and if I didn't want to cook and wanted to serve a healthy organic meal while hosting guests, I would definitely buy Annie's Homegrown Organic Pizza. My husband would just have to take a cooler with him to work in the warmer months because the closest Whole Foods is an hour away. Thankfully only minutes away from my husband's work place.
Annie's Organic Rising Crust Pizza is available in the freezer aisle at Whole Foods Market (Suggested Retail Price $9.99 for one 11.5-inch pizza). Learn more at annies.com/pizza. And don't forget to enter our giveaway below!
Enter Our Annie's Homegrown Organic Pizza Giveaway!
Three winners will be chose and each will win one coupon for one FREE Annie's Homegrown Organic Pizza. I will mail them out in 2-3 weeks depending upon how busy I am. Open to USA only.

Faith and Family Reviews received the following product in exchange for writing a review. While we consider it a privilege to receive free products to review, our reviews are our honest opinion and thoughts of the product.
Share and Enjoy