I love sharing about new resources that educate people about our current Big Ag food system and anything that helps people realize we do not need big corporations controlling our food. Hungry for Change is a new movie from the creator of Food Matters (another must see!). This is a direct quote from FRESH's email as I am about to watch the movie with one of my sons and whoever else is propelled towards the sound of a movie playing…..so here it is: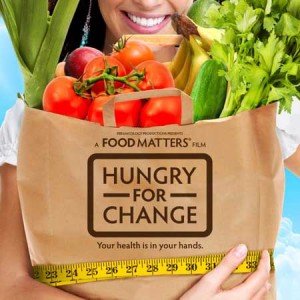 Today marks the worldwide premiere of Hungry for Change, and you can watch it online for FREE until March 31st. Check it out today!

http://www.hungryforchange.tv/fresh

In this movie, you'll hear the truth behind "diet," "sugar-free," and "fat-free" products, and learn what to avoid in your supermarket. You'll be inspired by transformational stories from people who have recovered from being sick and overweight. You'll find the solutions to vibrant health for yourself and your family. So, watch the movie and share the knowledge with a friend–it may save a life!

To a more energetic you,

Ana and Crystal
The FRESH Team

P.S. Want to support good food and our work at FRESH? Consider adding to our tip jar.
Share and Enjoy