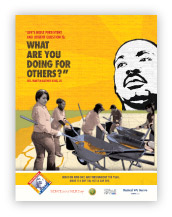 In just a week it will be Martin Luther King Day – Monday, January 16th.  There is valuable information on this site not only about MLK, but how others can volunteer or serve those in need.
 http://mlkday.gov/plan/library/communications/posters.php
Take your children on an educational tour about a man who made a difference and encourage them to change the world by making a difference too.
Share and Enjoy