This history of this product is fascinating.  It started in 1870 and sold to The Life Savers Company in 1930.  It was resold a number of times and due to cost cuts the product recipe had been altered.  Then the creator of Airborne, Victoria Knight-McDowell acquired Pine Bros. Softish Throat Drops and brought the product back to natural products.
Pine Bros. Softish Throat Drops are available this fall!  Currently, Natural Honey and Wild Cherry are out.  Lemon-Citrus & Licorice are coming soon!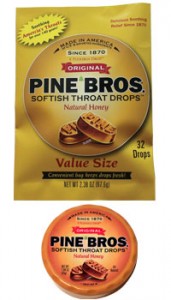 Check online for availability at a local store or you can order them online!
My Review:
I received 2 " pucks", Natural Honey & Wild Cherry.  First of all,  I love the fact this is a natural product.  It's not as squishy as a Gummy Bear but not hard like a hard cough drop.  It's in between with a desirable texture.  I enjoyed both, if I had to pick one.  I like the Wild Cherry a little better than Natural Honey.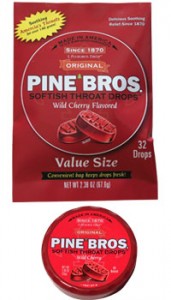 They were good. However, I didn't have a soar throat when I tried them. They have a smooth feeling down your throat so, I would assume they would work.
Overall, a great product!
Faith and Family Reviews received the following product in exchange for writing a review. While we consider it a privilege to receive free products to review, our reviews are our honest opinion and thoughts of the product.
Share and Enjoy