We recently discovered an organic raspberry farm in our area that has $2 Tuesdays. So this morning that is what we did – pick a few pints of raspberries. What fun we had! The children loved it and the farmers were very hospitable. We hope to go again as they will have berries for a while yet as they grow them in high tunnels, which they are doing in conjunction to a research project they are participating in.
This farm also had sheep they raise for wool, chickens that they had for pest control and they also hold different classes throughout the year. They have a couple I am interested in but I am not sure if the timing is right or not….have to wait to see.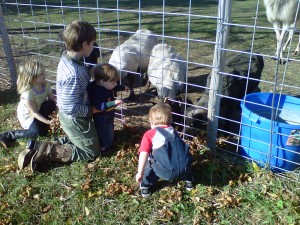 We are hoping to put up some more jam if the berries last that long….
Of course, I forgot my camera yesterday and for some reason it is a pain to get photos off my phone, so while I have a few of us I did not get many nor did I get us actually picking berries. I had planned to go back but ran out of space on my phone, of course. The trials and tribulations of a mom trying to capture family memories. Any suggestions on how to be better prepared? Would love to hear them!
Share and Enjoy