Faith and Family Reviews received the following product in exchange for writing a review. While we consider it a privilege to receive free products to review, our reviews are our honest opinion and thoughts of the product.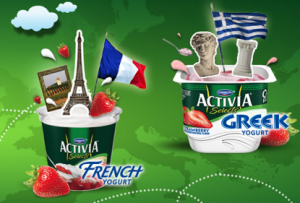 My Review:
We received French Selects Cherry, French Selects Fruit on the Bottom in Mixed Fruit and Greek Selects in Vanilla.  We love yogurt in our house.  We especially enjoyed the Activia Selects French & French Fruit on the bottom.  They were smooth and creamy.  The Activia Selects Greek is a thick yogurt.  We don't usually eat Greek yogurt, because of it's thickness.  But, it was still very enjoyable.   
Go to this website and you can get your own free Activia Selects to try! 
http://activia.us.com/products/enjoy_activia_selects.aspx
About Activia Selects:
"Everyday, millions of people across the country enjoy Activia at mealtime or as a snack. So, we're especially excited to introduce you to the newest innovations from Activia Selects – new styles of yogurt made from recipes inspired by global cultures, including those from Greece and France. Each allows fans of Activia – and those who may not have tried Activia before – to explore the wider world of tastes and textures offered by a brand they already trust and love."
"The new Activia Selects styles and flavors, including French style, with large fruit bites layered on the bottom, and Greek style, a creamy blended yogurt. As always, Activia Selects, made with the unique pro-biotic culture Bifidus Regularis, can help regulate the digestive system when consumed daily for two weeks as part of a balanced diet and healthy lifestyle, so you'll feel good about what you're eating."
"Partnering with Activia Selects is Johnny Luzzini, award-winning executive pastry chef and "Top Chef just Desserts" head judge, who can share delicious ways to explore new flavors and textures based on cultural recipes."
Activia Selects French are available in Cherry, Mango, Pineapple, & Blackberry. Activia Selects French Fruit on the Bottom are available in Strawberry & Mixed Fruit. And the Activia Selects Greek come in Vanilla, Blueberry, Strawberry, & Pomegranate Berry.
Share and Enjoy