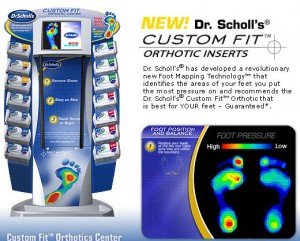 If you are like most mom's and dad's then you are probably on your feet all day. Whether or not at your work, around your house, or running around after your kids, your feet are proably left tired and achy. Which is why Dr. Scholl's created the new Dr. Scholl's Custom Fit Orthotic Inserts!
Not only are these inserts affordable, but they are located at retail stores near you. When you visit your local Dr. Scholl's Custom Fit Orthotic Centers, located in retail stores near you, feature Footmapping® Technology to identify the areas where you apply the most pressure and your arch type. After more than 2,000 sensors calculate your unique measurements, the kiosk then recommends the Custom Fit Orthotic Insert that best fits your feet.  It is really easy and only takes a few minutes to obtain your Custom Fit Orthotic Inserts.
My husband got a chance to try the new Dr. Scholl's Custom Fit Orthotic Inserts. He really liked them and thought that they where better made then other inserts that he has tried. Although, he did find that he had to use his old arch supports underneath his Dr. Scholl's inserts to get better results. But, then again he has very high arches.
For more information please visitwww.footmapping.com to find a store near you and learn more.
Faith and Family Reviews received the following product as a part of a MomCentral.com blog campaign in exchange for writing a review and we where compensated with the above product. While we consider it a privilege to receive free products to review and compensation, our reviews are our honest opinion and thoughts of the product.
Share and Enjoy