Faith and Family Reviews received the following product in exchange for writing a review. While we consider it a privilege to receive free products to review, our reviews are our honest opinion and thoughts of the product.
Has anyone ever told you to take a hint?  Well, I'm telling you to go buy a HINT.  A HINT Water that is! " HINT – Drink Water, Not Sugar"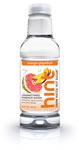 "Just the Facts"
"HINT is simple: Premium essence water with a HINT of flavor."
"HINT offers verages with no calories, sweeteners or preseravaive and is a great alternative to juice and soda."
"HINT was launced in April 2005 by current CEO Kara Goldin, a former AOL Executive and mother of four, her husband Theo hold the position of COO."
"HINT has appeared on popular shows such as Grey's Anatomy, Boston Legal, and CSI, in addition  to The Early Show, Power Lunch, and Good Day New York."
"HINT is based in San Franciso, California."
Here are the available flavor in HINT water – Watermelon, Honeydew, Hibiscus, Blackberry (available at Starbucks throughout the US and Canada), Mango-Grapefruit, Pomegranate-Tangerine, Lime, Raspberry-Lime, Pear, Cucumber, and Strawberry-Kiwi.
"HINT is available in high-end grocery stores, cafes, & food retailers nationwide."
My Review:
I received  six (6) bottles.  Watermelon, Blackberry, Mango-Grapefruit, Pomegranate-Tangerine, Raspberry-Lime, & Strawberry-Kiwi.  And my husband, daughter and I were "fighting" over them!  We liked them all and they were refreshing!  My favorite was the Mango-Grapefruit, while my husband's was Raspberry-Lime.  My least favorite was watermelon, only because I prefer real watermelon – the actual melon. I'm not fond of watermelon candy and things like that. 
The bottles are 16 ounces each and can be purchased directly on their site.  www.drinkhint.com .  I also found them on Amazon.  Both sites have HINT water at the same price per bottle. A great refreshing treat!
Share and Enjoy