Faith and Family Reviews received the following product in exchange for writing a review. While we consider it a privilege to receive free products to review, our reviews are our honest opinion and thoughts of the product.
"Discover an exercise that fosters respect, coordination, and self-confidence for kids!  It's Yoga, of course!  Children are natural yogis because of their "in the moment attitude".  Yoga nourishes their mind, body and spirit and paves the way for a life-long tradition of health and fitness.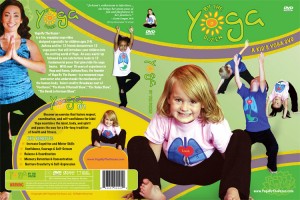 Yoga By The Dozen™promotes a healthy lifestyle for kids through their highly acclaimed 'Yoga By The Dozen' DVD and their complete line of lifestyle products for yoga.  The top-selling DVD is a fun, interactive children's yoga video, designed especially for kids ages 2-6.  JoAnna and her 12 friends demonstrate a 'dozen' fundamental poses that will introduce your children into the exciting world of Yoga."
Key Benefits:
Increase Cognitive & Motor skills
Confidence, Courage and Self-Esteem
Balance & Coordination
Memory Retention and Concentration
Nurture Creativity and Self Expression
Respect for themselve and each other
Proven therapy for kids with ADHD and Autism
About JoAnna Ross:  "Founder of Yoga By The Dozen™ was trained at City Yoga in Anusara teach-training program.  A life long performer, having danced on Broadway for years, found her natural charisma as a performer instantly clicked with kids."
My Review:  I discovered a few things about myself when reviewing "Yoga by the Dozen".  I need A LOT of practice, I have little balance and no flexibility. 
My daughter (2 years old) and I put on "Yoga by the Dozen", she loved it!  Watching the children on the DVD (who are little older than her) bend and stretch their bodies into poses.  She was following along (she's needs to work on her balance too, must be a family trait) and trying to say the different poses on the DVD.  She's a big fan of the Virabhadrasana #3 (Warrior #3 Pose).   The DVD is approximately 30 minutes.  JoAnna demonstrates the pose first and then one of the children replicates the pose to refresh the other children.  Then the whole class does the pose together.  I enjoyed watching the kids, they are all really enjoying themselves in the DVD.  We are going to continue practicing our yoga!
This is a wonderful DVD for beginning adults and children of all ages.  On the "Yoga by the Dozen" website www.yogabythedozen.com, you can also visit their store, they have yoga mats and yoga t-Shirts for kids and adults; and don't forget your video for only 17.99 (plus s&h). 
"Yoga by the Dozen" was generous enough to enable Faith & Family Reviews to host a giveaway!!
Giveaway
Enter to win a Yoga by the Dozen dvd! Estimated value $17.99