Faith and Family Reviews received the following product in exchange for writing a review. While we consider it a privilege to receive free products to review, our reviews are our honest opinion and thoughts of the product.
Here's an eye opener.  According to Marcia Washburn's book, "Research shows that by age 45, the average woman has spent 50,000 hours in the kitchen.  That figures up to 3124 days of her waking hours feeding and cleaning up after those she loves!"  Cough, gasp…  EXCUSE ME!  I love to cook, but I'm with Marcia.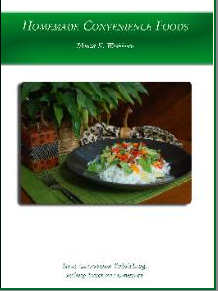 Here's what Marcia's website site www.marciawashburn.com says about her new book, Homemade Convenienve Foods.
"Homemade Convenience Foods is not once-a-month cooking or frozen pizzas or carry-out burgers, but a simple method that even never-cooked-much-before college kids and newlyweds can easily learn to implement.
The Homemade Convenience Foods system is perfect for busy homeschool moms, those who work away from home, and empty-nesters who need motivation to cook for just one or two people.
Homemade Convenience Foods even teaches you how to avoid those last-minute grocery runs that cost you so much time and money. With this system, you will always have the ingredients on hand to prepare at least a dozen different menus. Even drop-in guests won't faze you."
About Marcia and Why She Wrote This Book

"Three home-based businesses, church and community activities, homeschooling, and the growing appetites of five boys forced me to learn shortcuts in the kitchen.  By trial and error, I developed a system that allows me to serve inexpensive, good tasting, nutritious food in fifteen minutes or less without spending a whole weekend cooking each month.  This was not gourmet food, just hardy meals to fill those "eating machines" grazing through my kitchen."
About Homemade Convenience Foods
Marcia has developed a method that will stock your freezer, cupboard and refrigerator.  As well as giving you a list of the equipment needed, which is very few items.  She also includes a few tips along the way.
My Review
We all have those days that we stand in the kitchen or stare into the freezer (I'm famous for that one) wondering what I am going to feed everyone. I'm definitely trying this out. Marcia includes yummy recipes in her book.  I'm not talking tacos and hamburgers.  She has recipes for goulash, chili, quick beef stroganoff, and others.  I already started my list for my next grocery trip. I already do a few things she suggests. I buy ground meat, cook and freeze it. It works great for tomato sauce. I don't want to giveaway all her methods, tips or tricks. 
Go to her website at http://www.marciawashburn.com and buy Homemade Convenience Foods. It's only $5.95 for print and e-book (add $2.00 for S/H for print editions).  Also, don't forget wedding, baby showers, birthdays for friends and relatives!  Everyone could use this book. It makes a great addition to my cookbook collection.
Share and Enjoy