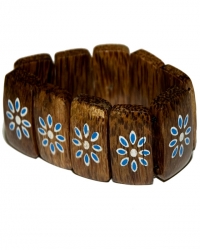 The Flower Bracelet $10
The Flower bracelet adds color and life to a neutral or dark outfit. Made of natural wood with handpainted blue and white flowers on each square block. On SALE from $15 to $10.
I liked that this bracelet was handmade and that the flowers where hand painted. I love flowers and this definitely attracted my eye. It has a nice loose fit, is very pretty and is one of my favorites out of five's  bracelets!
Share and Enjoy