I received this product for free from Smiley360 in exchange for my honest review. You can join Smiley360 here!"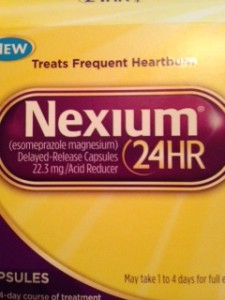 Don't suffer any longer!
Let Nexium help you with your frequent heartburn.   With Nexium 24HR this is a 14 day treatment, you take 1 tablet with water before breakfast every morning for 14 days.
"Nexium 24HR is to be taken once a day for fourteen days straight – do not take it any more than that – and can be restarted after four months. Nexium 24HR is used to treat frequent heartburn only. It does not cure acid reflux, GERD or any other diseases. "
The purple with yellow striped Nexium tablets are oblong and smooth.  It is also noted on the Nexium webpage that this is not for immediate relief of heartburn.
Here are some tips to help manage heartburn
Avoid spicy and fried foods, caffeine , and some acidic fruits and vegetables
Don't rush eating, take your time
Avoid eating before going to bed
Don't lie down after you eat.
As with this and any drugs you need to consult your physician before usage.
My husband is usually the one that gets the heartburn after meals in our house.  He tried the 14 days and we did see a change in his heartburn.  It helped him, which made all of us very happy!
Head over to the Nexium 24HR webpage for coupons
Don't forget to like them on Facebook!
#Nexium24HR
Share and Enjoy