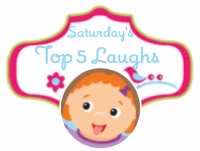 It's been a long time since I have last posted a Saturday Top Five Laughs post. Our last minute trip to Nova Scotia kind of threw me off. Without further adieu let's join
The Mommyhood Chronicles for Saturday Top Five Laughs – week #39 (for us)!
5. Someone older in our family tried to eat a cheese stick with plastic on!!
4. While we were traveling to Canada, our youngest had a melt down. So we called my husband, who talked to him for five to ten minutes. There was complete silence on my youngest's end, until we realized he'd fallen asleep!
3. My son passed gas on me and when he couldn't do it again, said he wasted all his farts earlier.
2. Several of our children kept mixing up the names of family members and calling them Nanny B (a combination of Nanny and their Uncle's name) Aunt B (really their uncle's name) and Uncle C (really their aunt's name.)
1. Youngest daughter: Can I have a cheesestick?
Youngest son: I'll get it my lady.
Youngest son: *bringing it to her* Here you go my lady.
And that's a wrap for this week!

Share and Enjoy