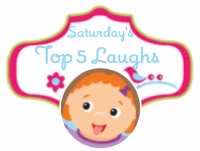 A little late in posting my Saturday Top Five Laughs post this week. We are once again joining Mel over at The Mommyhood Chronicles for week #32 (for us) in our Saturday Top Five Laughs of the week.
5. "The cat ate the frog!"
That is what I heard our children say this evening. They have had it in their bug box and left it in the garage where our mama cat is staying with the new kitten. It should be an interesting evening to say the least.
4. "Pretzels don't eat bacon!" Ok, it's one bizarre evening here. We just thought our oldest said, "Pretzels don't eat bacon!" Not just me but the two younger ones thought that is what she said too. She smiled and corrected us (or herself) saying, "No, pretzels don't need yeast​, they need baking powder."
I'm still shaking my head.
3. My pinky hurting mommy….
Jr. is telling me his pinky is hurting….and he has two clothes pins on both of his pinkies! Take them off then, I tell him….and he keeps them on. Sigh.
2. "Do you want to go on a date with me?"
My four year old just asked my 14 year old this! I asked how does he know what a date is and one of the other children said, "He doesn't!"
Too cute!
1. My oldest lightened her hair with peroxide and after all that decided she likes it her darker color! Silly girl! She claims she was bored of her hair.
What are some silly things your children do?

Share and Enjoy