Watching your child struggle with the sniffles is never easy. Now you can both breathe easier with Kids Relief® Allergy Oral Solution. This unique homeopathic formula helps relieve nasal congestion, sneezing, tearing eyes and itchy eyes, ears, throat and skin.
Kids Relief® Allergy is a great-tasting, easy-to-administer oral solution that is safe for kids ages 2 and up with no risk of side effects, drug interaction or overdose.
This homeopathic medicine helps relieve allergy symptoms:• sneezing
• nasal congestion
• throat and skin irritation
• teary eyes
The product is for use on children age 2 and older!
Active Ingredients HPUS:                     Purpose:
Pulsatilla 8X (Wind flower)                    nasal congestion, skin irritation
Allium cepa 6X (Onion)                        teary eyes
Arsenicum album 8X (Arsenous oxide)  skin rash, throat irritation, sneezing
Nux vomica 6X (Poison nut)                 skin irritation, itchy nose and throat
Euphrasia officinalis 6X (Eyebright)       eye & eyelid redness, burning tears
Sabadilla 6X (Cevadilla)                       wheezing, sneezing
Sticta pulmonaria 6X (Lungwort)         minor throat irritation, runny nose
Aralia racemosa 6X (Spikenard)           frequent sneezing
Cuprum metallicum 8X (Copper)          itching sensation of eyes, ears,
throat and skin
The letters 'HPUS' indicate that the components in this product are officially monographed in the Homœopathic Pharmacopoeia of the United States.
Inactive Ingredients:
Purified water, sorbitol, banana flavor, sodium benzoate, potassium sorbate, citric acid.
Our review:
This is a neat little product! My son suffers from allergies and we usually use an over the counter medication like Zyrtec or Claratin. However after giving this a try I must say it is a nice homeopathic option to the regular pharmaceutical options.
My son said this tasted good and it was better than the chewable pills he usually takes…so that was a plus. You ask… did it work? YES IT DID!!!! I am very happy to report that this worked on all his allergy symptoms. The only downside was that it was not as fast acting as the pills he usually takes but it did work! He did not see immediate relief but he did see relief. The product says to use every 8 hours… so not too bad, so to get continual relief we had to use 3 times a day…compared to our once a day pill.
I like the homeopathic option much better than a pharmaceutical pill that is laden with medicines. This is a much more natural option. THAT WORKS!!!! I have to admit that I was skeptical at first but knowing that homeopathic remedies can work I tried the product and was PLEASED!
To find more out about this product and all Kids Relief products please visit:
Kids Relief® Allergy was a winner in Delicious Living's 2012 Supplement Awards, winning an honorable mention for the "Best Kids Health" category.  Click here to check it out.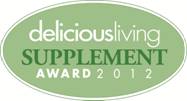 Share and Enjoy