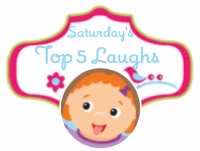 That time of week again! Welcome to Saturday top Five Laughs, along with Mel over at The Mommyhood Chronicles, for week #19 (for us) in our Saturday Top Five Laughs of the week.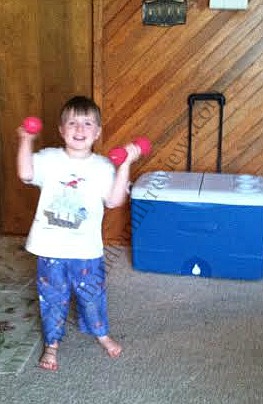 Not the greatest photo since he was moving.
5. Jr. was lifting weights and this is how he counted, "1, 2, 3, 4, 5, 99, 67, 47…" Too funny! Gotta teach the boy how to count correctly I guess. Ha!
4. Our older son asked hubby what was in an R rated movie….
Hubby ~ "Violence, language and nudity."
Son ~ "Do they really strip down?"
Hubby ~ "Yes."
Son ~ "Gives me the willies," as he shakes and kicks his legs.
Quite a response, eh?

3. We went to a new church on Good Friday and again on Easter Sunday, right here in town. The Monday after Jr. says, "Me want to go to church." Awww….he LOVED greeting people during the meet and greet time!
2. We made cheddar cheese nearly two weeks ago and a couple of the older children and my husband were cracking "why"/whey jokes. For example, "We have a 'whey' with words."
1. Our six year old asked a couple of strange, odd and kind of funny questions. Here's one of them, "When will my brain get better?" Or was it bigger? Either way, it's a winner.

Share and Enjoy