This post contains affiliate links to support our family.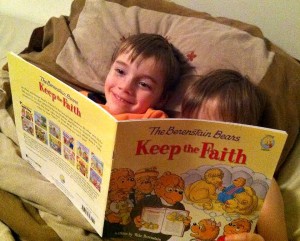 If you spend any amount of time on my site you know we love books! I stopped getting children's books to review just because we have so many books already but I couldn't resist The Berenstain Bears Keep the Faith (Berenstain Bears/Living Lights)
book.
Our younger children all love this book and have asked to read it over and over again. The message is simple. Brother and Sister Bear come across a friend, Ferdy Factual, who does not believe in God and they are not quite sure what to do or say for that matter. They were kind to their friend, though they asked him questions. I thought Mama and Papa handled the issue quite well, though they could have done a better job of explaining what faith is themselves rather than going to Preacher Brown. However, I understand that may have just been there to help children know when mom and dad do not know the answer a member of the clergy is there to consult with on the tougher questions.
This book was a good reminder to me to help our children understand that not everyone believes the same way or the same things as we do.
I give it two thumbs up for Keep the Faith for any family of faith with young kiddos in the home.

Share and Enjoy