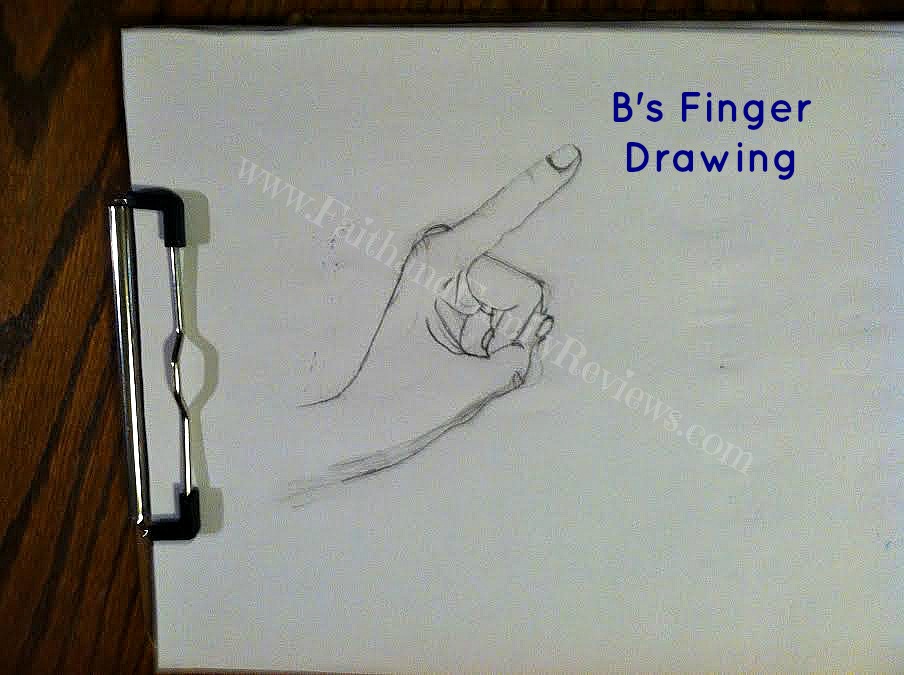 I love my children's art work. I use to be so anal about it as I use to save every drawing. When we moved from our townhouse we literally went through bags of children's art work from our older girls. They were like, "Mom, why did you keep this?" I seriously hated the thought of throwing anything away. Several children later and I was completely over it. Though Jr. has been making it hard lately. Wait 'til you see what he's made this week in my Saturday Top Five Laughs post!
A few weeks ago B brought me this drawing of her finger. Her first attempt, mind you! She has always loved art, drawing, painting, etc. And with Miss Moo's arrival she had to put it on the back burner, so she's been having fun getting back into it again. B says she has so many interests there's not enough time to do them all! I can completely relate to that! There are so many things I'd love to do but cannot because of time constraints. Maybe we should split our time between all the things we are interested in and see if we can get even a little bit accomplished in each area? Kind of like setting up daily, weekly or monthly activities for ourselves. Hmmm…..something to think about.
Do you have a favorite hobby? Any artists in the family?

Share and Enjoy