"I participated in an Influencer Program on behalf of Dad Central for ROGAINE®. I received a product sample and promotional item to thank me for participating."
Guest Dad Blogger – Scott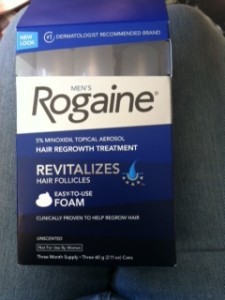 Besides worrying about getting gray some of us Dad's also begin to worry about hair loss.  The dreaded widow's peak is starting to make an appearance for this Dad.  I'm looking forward to using ROGAINE treatments.  As directed – I will use a half a capful of ROGAINE foam twice a day (morning and evening).  It's a leave in formula, so make sure it's dry before you go to bed.
Many of you may recognize Bill Rancic from "The Apprentice".  He was not fired by Donald Trump and was the first winner of the show.  Bill came on board with ROGAINE in May 2012 and is currently serving as the brands first ever "Growth Coach".  Bill tells about real world experiences and personal situations and not letting his hair loss get in his way.
The "Grow you Game" initiative – A few small changes in your life can give you or anyone the confidence to achieve anything.  That shock of looking in the mirror and seeing your losing hair or over weight can really take the wind out of your sails.  I'm taking back my confidence by using ROGAINE foam, eating better and getting out for a walk once a day.  Just these few extra minutes a day can make a lifetime of difference in your confidence and attitude.  Check out what Bill Rancic and 5 other men are saying about the "Grow you Game" initiative.
A few ROGAINE facts:
It is FDA approved and Easy to use.
ROGAINE is the #1 Dermatologist recommended brand for hair regrowth.
Did you know that …
"Hereditary hair loss affects up to 40% of all men and more than 15 million men admit to being concerned about the condition."
Why not start fixing that concern today!  ROGAINE is available nationwide at food, drug and mass retailers, or even online at www.rogaine.com.
Share and Enjoy