"I participated in a campaign on behalf of Mom Central Consulting for Chicco. I received a product sample to facilitate my review and as a thank you for participating."
Chicco is a brand name that I have come to trust and love. They sell a multitude of products designed with babies and parents in mind.  Their new line of bottles and pacifiers, Chicco NaturalFit, go above and beyond to keep babies happy.  Their advanced feeding and soothing system grow with your baby as your babies feeding style is constantly changing.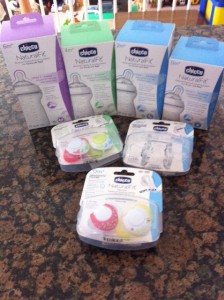 Their NaturalFit bottles come in three distinct nipple shapes. The first stage is Squeezing and the nipples are designed for newborns.  The nipple is actually angled so it is easier for a newborn to drink. Because of the way it's positioned the nipple will always be full with milk so it is almost impossible for baby to swallow air. This is super important since babies swallowing air can lead to an upset tummy, which means the baby may be cranky.  I noticed the nipple is also very soft and flexible, similar to a breast. This makes it easier for moms who decide to breast and bottle feed. These nipples come in two flow categories, newborn and medium.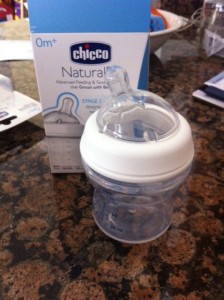 The second stage is Transition and the nipples are designed for babies around four months old.  The nipples are more upright since babies have better neck control. My favorite feature about this nipple is it has three different flow positions. One nipple can adjust to three different flows; slow, medium, and fast. This was amazing to me! When I have purchased bottles in the past I would have to be constantly buying new nipples to go with how my baby was eating. Sometimes I would even have one faster flowing nipple for lunchtime when she was super hungry, and then another slower nipple for bedtime when she was relaxing and just enjoying her nighttime bottle. Trying to keep track of all of the nipple flows was a pain in the butt! This nipple you simply place in the baby's bouth with the flow number you want closest to baby's chin. That's it! It is way less nipples to keep track of, and very easy to use.
The third stage is Sucking and the nipples are designed for babies around six months old.  The tip is more elongated to encourage swallowing and to help with the muscle development. This nipple is available in fast flow and a Y-cut flow for introducting thicker liquids.  For my daughter, she is 9 months old, we used the fast flow. It seemed a little faster than what she's been using, but she didn't seem to mind.  She finished faster and had an easy time holding onto the bottle. She thinks she's a big shot and likes to hold her own bottle on my lap.
Their NaturalFit orthodontic pacifiers are also great products. They are BPA free and Latex free. Their designed with soft silicone and they have tiny ridges and grooves at an angled shape. They come in a variety of colors and sizes based on how old your baby is.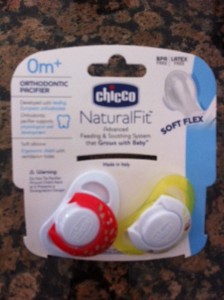 Overall I was really impressed with Chicco NaturalFit. Their design and genius adjustable flow nipple are something I would highly recommend to my mommy friends.  These products are now available in store and online at buybuy BABY.  For more information on Chicco NaturalFit check out their website:
Share and Enjoy