I actually do watch The Good Wife. I don't agree with everything in it but it is an interesting show with lost of twists. The all important question this season is…..which team are you on? Team Lockhart/Gardner or Team Florrick/Agos?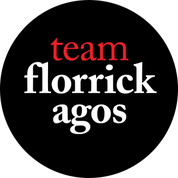 Personally, I am on Team Florrick/Agos because I want Alicia to fight for her marriage, but I have a funny feeling she and Peter are going to have more struggles ahead of the due to the woman hired to run his ethics committee. I also think Alicia is seeing how Will is treating Diane during this transition time and is becoming wiser in determining what she wants and where she wants her career to go.
For those unfamiliar with the show or do not watch it, here's a synopsis about The Good Wife:
THE GOOD WIFE stars Emmy and Golden Globe Award winner Julianna Margulies as Alicia Florrick, a wife and mother who reinvents her life following her husband's sex and political corruption scandal. Four years into her tenure at the law firm of Lockhart/Gardner, Alicia accepts a prestigious partner offer from her bosses, Diane Lockhart, Will Gardner and David Lee. However, a mutual attraction with Will leaves Alicia conflicted after she agrees to renew her vows with her husband, Peter, who has won the gubernatorial election with the help of campaign manager Eli Gold. After much thought, Alicia agrees to leave Lockhart/Gardner to start a new firm with her colleague, Cary Agos, who is unable to convince investigator Kalinda Sharma to join them. Now, Alicia must find a way to balance her evolving career, her new position as First Lady of Illinois and her roles as a wife and mother to her teenage children, Zach and Grace. Emboldened by the prospect of taking control of her future, Alicia bravely ventures into unknown territory.
"The Good Wife" began its fifth season Sunday, Sept. 29, 2013 on the CBS Television Network.
About the upcoming October 27th Episode:
The heat is on as Alicia and Cary's plans to leave the Lockhart/Gardner firm are suddenly exposed, with Diane getting suspicious, leading to a frantic battle for clients, on The Good Wife, Sunday, October 27 at 9:00-10:00pm ET on CBS Television Network. Will you be watching as the heat is on?
If you are a fan of the show, consider liking The Good Wife on Facebook.


This post was sponsored by the Role Mommy Writer's Network.
Share and Enjoy