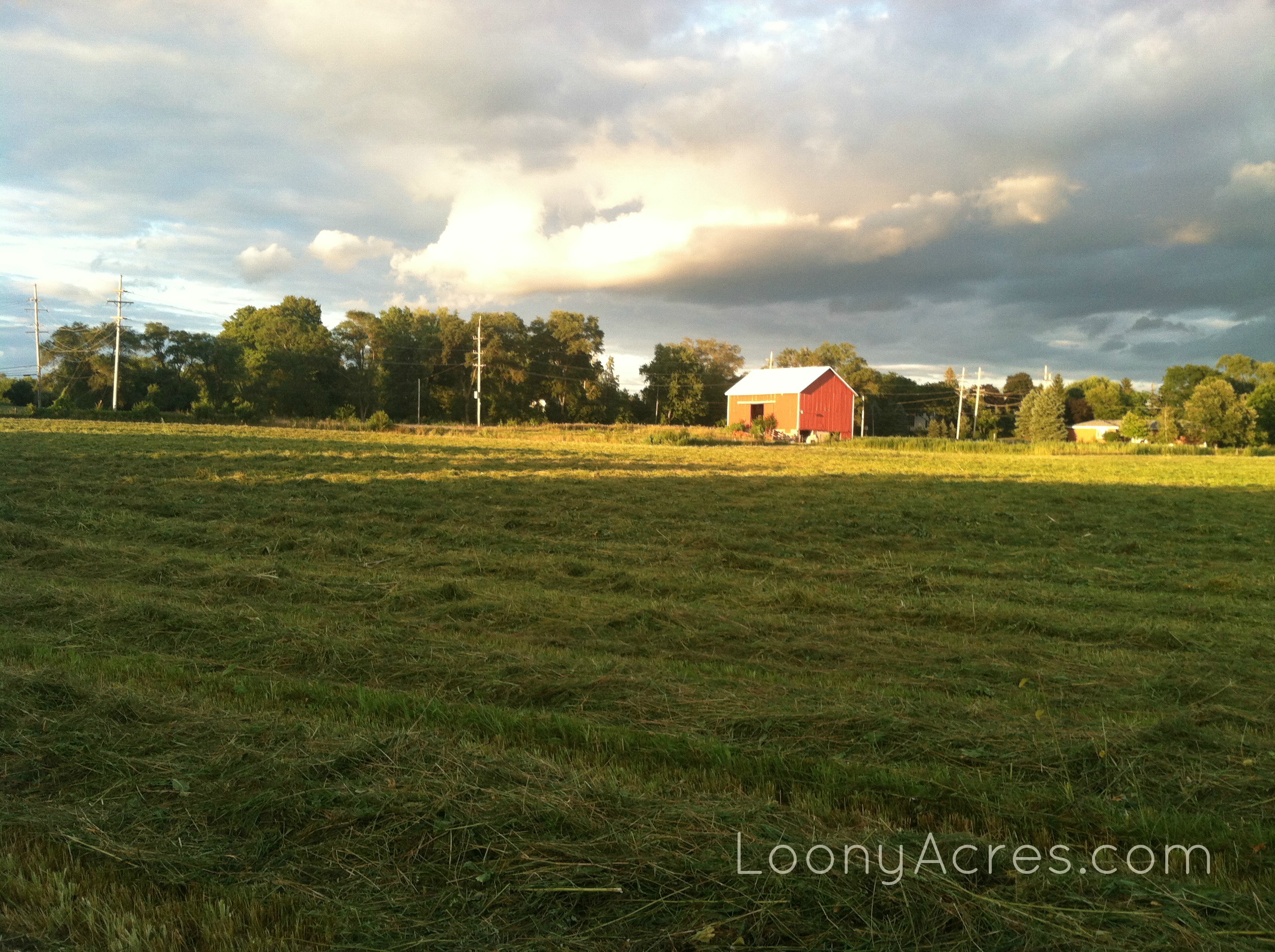 This is a photo of our farm at sunset when we got the hay field cut. The hay is all baled and stored except for the few bales that got rained on. We got pretty close to 600 bales of hay for our first cutting and that was just our share. We split it 50-50 with the farmer who cut, raked and baled it for us. No exchange of money, which we liked. Some hay guys will charge you a certain amount on top of each bale, even if they are getting 50 percent of the bales.
It was very hard to find someone to do our hay. Someone who said what they meant and meant what they said. Mr. L. came out to our farm to look at the hay field the same day we called him. He cared if the hay got wet or not, though we didn't miss the rain altogether due to the amount of time it took for the hay to dry with the thicker weeds.

We had a few hay guys give us the run around, didn't come out when they said they would etc. We are very thankful to Mr. L. for doing our hay for us.
It was a lot of work to get the hay unloaded and into the barn. Our children now say they hate hay! lol! We kept asking them what are you going to do if we get another cutting? What are you going to do if we get three cuttings next year? Though some say three cuttings is rare, especially if you don't have your own equipment, which we obviously do not.
Now that the hay is in we have fencing to work on. Thankfully it is suppose to be nice all week and not too too hot. 70's and 80's slowly moving back up to the 90's again.
P.S. By way of a wee update….Mr. L. picked up his last two wagons today and told us he had to bring in someone to fix his baler but he wasn't accusatory like it was our fault or anything. The guy that planted our field refused to hay it, #1 he was backed up with other haying jobs but #2 he said it was all weeds and there were too many rocks in the field. When we told Mr. L. this he was matter of fact, "Hay fields have rocks…." We feel bad his baler broke but blessed he didn't blame us/our hay field.
He also told us our pasture grass is coming back nicely and we can probably look at a second cutting mid to late October! Hoorah! The kids are going to love us!


Share and Enjoy