Faith and Family Reviews received the following product in exchange for writing a review. While we consider it a privilege to receive products to review, our reviews are our honest opinion and thoughts of the product.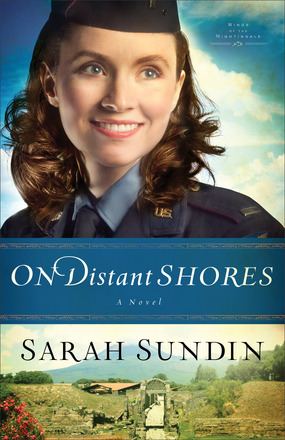 On Distant Shores is the second book in the Wings of the Nightingale series written by Sarah Sundin. It is a historical romance set during WWII at a time in which pharmacists were not taken as serious on the battle field or at home for that matter, as their profession is today. This book is about the fear, indecisiveness and timidity of a flight nurse named Georgina and the pride of an enlisted pharmacist, named Hutch. It is also about their struggles within the system.
Did you know pharmacists were not respected by many during WWII? Did you know a pharmacist could not be an officer in the army, therefore could not fraternize with officers? I learned a lot in this book.
Georgina and Hutch were put in many crisis situations and had to know how to deal with them. Like anyone tested under extreme pressure, each of them struggled yet grew in character.
I liked how Georgina found a "new you". She learned how to make decisions for herself and be the best she could be despite the opinions of close friends and family, which were quite the opposite of what God wanted her to become during her time as a flight nurse. She was able to face her fears and insecurities and actually conquer them. Ever have people you love doubt you and your decisions? Were you strong enough to advance forward in spite of their doubts? It takes a lot of strength and trust in God to do so, after all loved ones are people we trust and usually know us best. However, God knows us even better than they do.
Hutch also discovered a "new" person within himself, but he had to put away an uglier side of himself before he could fully become the "new" Hutch. God had to humble him to the point of a servant in order for Hutch to realize being in the Pharmacy Corps was a worthy goal but did not define who he was as a person. He had to learn to be all he could be in the position he was in and be content not to be in the Pharmacy Corps if that is what God deemed best for that time.
I liked the growth of the characters and learning more about the professions of flight nurses and pharmacists…but I found myself a little bored, whether that was because I didn't get to read the book at a leisurely pace and felt rushed to get it read to get my review done on time or if it's because I have read too many novels and am bored with the same old same old. I will say there were a couple of surprises in the storyline and overall it was a decent read but I'm not sure it's a book I'd read it again. For that reason I only give it a thumbs up.

"Available August 2013 at your favorite bookseller from Revell, a division of Baker Publishing Group."

Share and Enjoy