Faith and Family Reviews received the following product in exchange for writing a review. While we consider it a privilege to receive free products to review, our reviews are our honest opinion and thoughts of the product.

 
Back to School with Enzo Francine Shoes
Add some superstar style to any outfit with the snazzy, jazzy, look of these Enzo Kids, oxford. The Enzo Francine shoe is available from size 8-5 and is a great combination of athletics and fashion all in one. Here are some of the shoe details:
Metallic or white fabric upper in classic silhouette
Lace-up closure for quick and easy on and off.
Padded tongue and collar provide additional comfort.
Breathable textile lining and cushioned textile insole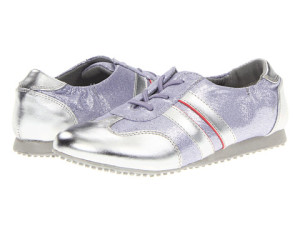 The Enzo Francine Shoe is available in white and metallic lavender at www.zappos.com for $45.99
Our review:
We received the metallic lavender Enzo Francine shoe. We were very pleased with the overall look of the shoe. This is a very classic shoe with a modern fabric. My daughter will be stylin'! My daughter wears a size 12 and we received a size 13 and they fit nice…she has a bit of room to grow (about a thumb length from the big toe). When she put them on her feet, she mentioned how nice they felt. My daughter also mentioned that she liked the slip on ease of the shoe, saying that they were easy to take on and off. I liked the fact that the shoe has "give in the heel" it is not stiff like regular slip on shoes and can be easily manipulated on and off.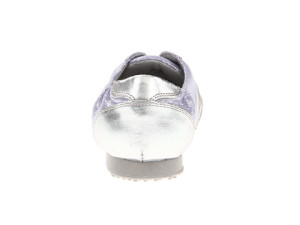 Please note that although there is a lace closure it is not a tie closure … which is GREAT for my kindergartener who is just learning to tie her shoes… this gives us a no fuss way to wear shoes right now and learn to tie at our convenience instead of every time we have to put on shoes!
As for the aesthetics, the outer part of the shoe is a very nice metallic fabric, and great quality. The inside is a cushiony soft material that will wear nicely. Finally, the traction sole is great and will help keep little ones steady.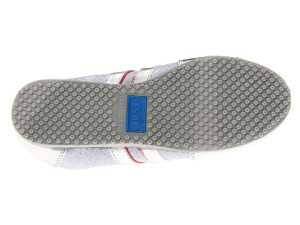 Overall, we were very pleased with the shoe functionality and fit. I think you will be pleased with this shoe this season!
Please visit Zappos.com at this LINK to view the Enzo Francine shoe in further detail!
Share and Enjoy