Faith and Family Reviews received the following product in exchange for writing a review. While we consider it a privilege to receive products to review, our reviews are our honest opinion and thoughts of the product.
As a mother, I am always on the lookout for fun, innovative ways to teach my kids important lessons and skills.  Learning your ABC's is especially important since it is the basis of reading.  I started early teaching my son his letters, always looking for fun ways to teach him without him knowing he was "learning."  He's All Boy has made this an easy task!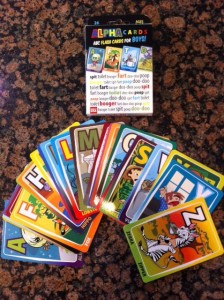 He's All Boy Alpha Cards are not your ordinary flashcards.  "A" is no longer for "Apples" and "B" is no longer for "Ball."  "A" is featured as an "alien" having an "accident" and "B" shows a "bear" picking his "booger."  These silly cards are gross and funny, a perfect mix for any boy and even girls.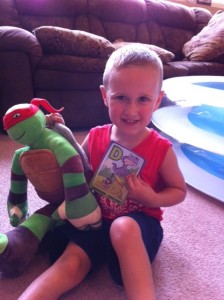 I have found that when I relate things to my son, he is more likely to remember what I taught him.  What better way than teaching him that "F" is for "fart" rather than "feather."  What will your child more likely remember?  My son is really into the Ninja Turtles right now so his favorite card was "N" for "Naked Ninja."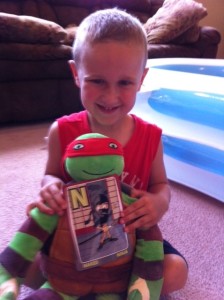 Every card he laughed out loud at, and when we went through the entire deck he wanted to do them again.  These Alpha Cards are an absolute GREAT learning tool to get kids excited about their letters.
These cards are also nice because they are larger than most making them very kid-friendly.  They are also thicker and have a shine to them so they would be easy to clean.  He's All Boy also sells a Matching Game and Vinyl Placemat which would be great for reinforcement!  Overall, I highly recommend the He's All Boy Alpha Cards to any mom.  They are definitely fun for everyone playing.  I'm not sure who laughed harder, my son or I!
Share and Enjoy