"I participated in a campaign on behalf of Mom Central Consulting for Cascade. I received a product sample to facilitate my review and a promotional item as a thank you for participating."
Cascade Platinum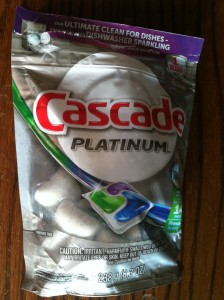 Washing dishes is an every day occurrence at our house, as I am sure it is at yours. With ten of us we use a lot of dishes and run our dishwasher 1-2 times per day. In January we reviewed Cascade Complete Pacs, which we really liked. So when Cascade Platinum came out, it was with great interest that we tried the new Cascade Platinum pacs.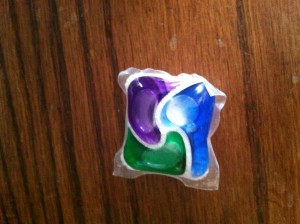 The difference between the Cascade Complete and the Cascade Platinum is the advanced tough food cleaning and film protection for a sparkling machine. We have noticed the dishes are cleaner and more sparkly. Our machine seems to be cleaner but we have some hard well water that seems to have made the inside of our dishwasher a rusty color so it may take time to see if there is a change in the color with consistent use of Cascade Platinum.
We will definitely be purchasing Cascade Platinum again, as we mentioned in our Cascade Complete post, Cascade is one of our favorite brands because we have yet to find an organic, eco-friendly dishwasher detergent that does a better job than Cascade.
Cascade Platinum Contest
Cascade had partnered with Gail Simmons,Top Chef judge and editor of Food & Wine magazine, to discuss why food presentation is just as important as preparation.
• From prep to plating: It's more than just a great tasting recipe, but also perfect presentation. Sparkling dishes, shining flat ware and spot free glasses truly!let you put your best food forward with culinary creations that pop!

• Gail recommends impressing with a)Platinum Presentation: "The easiest recipes pop with unexpected, gourmet presentations. Drizzle bright sauces on sparkling white plates or layer
desserts in crystal clean glassware. Keep your presentation sparkling with Cascade Platinum, which keeps dishes perfect for anytime entertaining and impromptu guests."
Below is a video where Gail shares why plating is so important:
You can learn more about Cascade's partnership with Gail Simmons by viewing the other videos available on the Cascade Facebook page http://on.fb.me/10Y8RQQ or on You Tube via the video above.
If you enjoy taking photos of your food and want to show how much Cascade Platinum enhances your presentation, I encourage you to enter the contest for a chance to win some great prizes from Cascade. For complete details of the #MyPlatinum Instagram contest visit http://tinyurl.com/PlatBlog

Share and Enjoy