#spon: I'm required to disclose a relationship between our site and Sprout Foods. This could include the Sprout Foods providing us w/ content, product, access or other forms of payment. Check out the new Sprout Foods website at www.sproutorganicfoods.com.
Our family is usually game to try anything organic. So when the opportunity to try Sprout Organic Toddler Snacks we took it. Sprout Organic Toddler Snacks aren't just for toddlers, my preschoolers, school aged children, teens and even we adults enjoyed trading these little Fruit & Veggie Crispy Chews and Fruity Yogurt Bites.
We all loved the Sprout Organic Fruit & Veggie Crispy Chews and Fruity Yogurt Bites. My husband had an aversion to even trying these snacks because of the blend of fruit and vegetables. Here is a photo of his exaggerated dismay: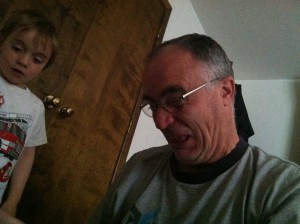 All the younger children traded their vegetables and fruit so they could try each flavor.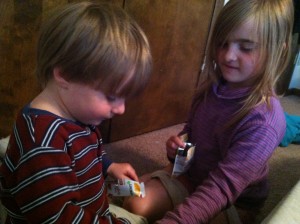 This is what the all natural snacks look like: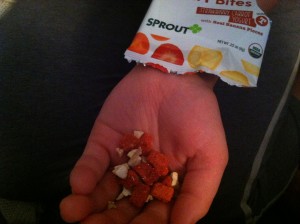 We would definitely purchase these snacks for on the go, traveling or as a special treat. Two thumbs up from us!
Here's a digital coupon offer for you to enjoy through the end of June: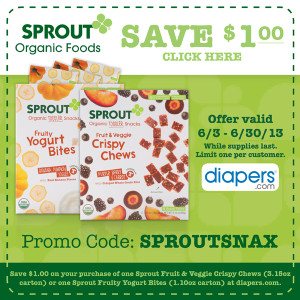 A new coupon, from Sprout and Diapers.com, which is good for $1.00 off the purchase of Sprout Fruit & Veggie Crispy Chews or Fruity Yogurt Bites. The promo code is SPROUTSNAX, and the coupon is good through June 30th. If you want to share the coupon with your friends and followers, feel free to do so!

Share and Enjoy