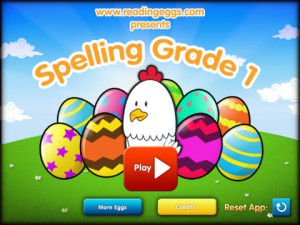 The final installment of the Eggy apps is the Eggy Spelling Grade 1 app.  The app is available in your itunes store for an ipad with an iOS of 4.0 or higher.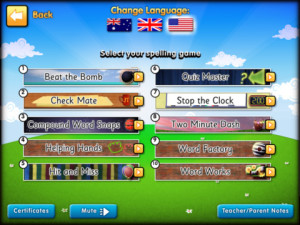 Look at all the options available for your speller!  Each game you can choose has 5 levels. A is the easiest and E is the hardest level.
#1 – Beat the Bomb!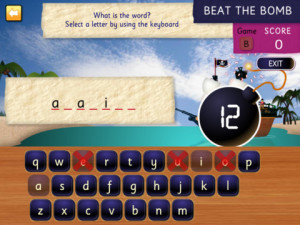 Your pirate ship is in the water.  You have 15 tries to fill in the blank letter to spell the word.  If you can't spell the word in 15 tires, the bomb goes off and your pirate ship sinks!
#2 – Check Mate
You need to help edit the "Backwater News" sentences.  Your given a sentence with a word spelled incorrectly.  If you correct the spelling you move to the next sentence.  Incorrect answers lead to a "wrong" sound, you get 2 tries before you move to the next sentence.
#3 – Compound Word Snaps
Aboard "Gallicus 1″ you snap words together to make compound words.
Your given 10 words at the bottom of the screen.  You then must drag each word to make 5 word that will "snap" together or make compound words.  When you finish making your 5 word you click check.  It will them check your work and let you know if you missed any words, then tell you how they should have been.
#4 – Helping Hands
You've arrived at "Wendy's Wonderful Word Factory", time to start working.  Your given a sentence with a highlighted word, to which you must choose a "helper word" to complete the sentence.  For example – The sentence is ….
"May all your wish come true!"  With the word wish highlighted.  Your then given "s" or "es".  Then you type "wishes" – so then wish becomes wishes.  Making your sentence "May all your wishes come true!"
#5 – Hit and Miss
Let's play balloon pop!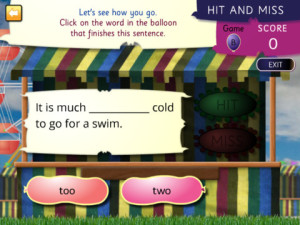 #6 – Quiz Master
Ready to play everyone's favorite quiz show?!  Do you have what it takes?
"What is the first month of the year?"
J _ _ _ _ _ _
"What do you sleep in at night?"
B _ _
After you type the answer, click check to find out if you spelled the correct answer!
#7 – Stop the Clock
Are you ready?  Think fast.
You are given 5 sentences.  Each sentence has a missing word and each missing  word starts with the same letter.
Once you fill in the spaces, let's hit the check button and see how many you got correct!
#8 – Two Minute Dash
Here we are back at "Wendy's Wonderful Word Factory" and the workers need help building a new word wall.  Wanna help?
Each brick shows part of a word.  You have 2 minutes to to make proper words.
#9 – Word Factory
Let's go back at the factory.  You need to help the workers!  They forgot to add some important letters!
Most of the missing letter are vowel letter.  example "T_ KE"  Then you would choose from the available choices, to make the word TAKE.
#10 Word Works
Some of the words are broken at Wendy's Factory and need they your help fixing them!
"I like to do jigsaw Puzzl _ _." you need to type in the correct letters to finish the sentence.
Once all the levels are finished your child will receive a Certificate of Achievement that can be emailed!  Really cute and your child will love to hang up their achieve award!
Share and Enjoy