Faith and Family Reviews received the following product in exchange for writing a review. While we consider it a privilege to receive products to review, our reviews are our honest opinion and thoughts of the product.
Going bra shopping has never been one of my favorite things to do.  Normally I have to buy them at stores I don't shop at on a regular basis so I have to make a special trip all the way there.  I'm kind of picky when it comes to bras, so after trying them on in the store, I always go home and try them on again to make sure I like them.  More often than not, I have to return one or two of them because they felt different when I tried them on at home.  Then I have to make another trip back to the store to return them, and restart the process.  Needless to say, I only bra shop once or twice a year.  When I received the opportunity to review a nursing bra sold exclusively at Wal-Mart I was delighted.  How convenient to buy bras at Wal-Mart when I'm already shopping there at least once a week.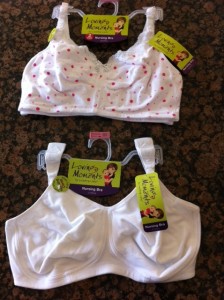 Loving Moments by Leading Lady products include nursing bras for everyday, active, sleep and leisure.  They also offer nursing camis as well.  Normally I wear bras that have an underwire, so I was anxious to try a couple without.  The first one I tried was the Cotton Wirefree Nursing Bra that is sold as a 2-pack.  In terms of style, they were absolutely adorable! You can choose either black, black dot, pink, or pink dot and then they come with another white bra.  Each has strech lace lining at the top that really flatters the chest and is ultra soft.  It also gives a lot so you can easily move in it.  I like that the cups are seamless so you don't see any lines through your outerwear and they don't irritate the skin.  The neck line is low enough that you can still wear V-Neck shirts while wearing them.  As a nursing bra it was very easy to clasp and unclasp with one hand.  Nursing pads fit very easily inside as well.  This bra gave so much support, I could not even tell it didn't have an underwire.  Usually by the end of the day I cannot wait to take my bra off and "relax."  I honestly didn't feel like that wearing this bra.  It was so soft and not confining.  I definitely recommend this bra to nursing moms!
The other bra I had the chance to try was their Active Wirefree Nursing Bra.  I will be honest.  I never knew nursing "sports bras" existed.  I always just wore regular sports bras when I was nursing and then it was just a pain in the butt when it came time to nurse.  This bra was amazing!  It was so soft and comfortable to wear.  I loved that the shoulder straps were padded and a little wider to help support when I went for my walks and light jogs.  This nursing bra was also easy to clasp and unclasp using only one hand and nursing pads fit in easily.  I could not believe how comfortable it was for walking and for doing the day to day jobs around the house.  I highley recommend this bra as well.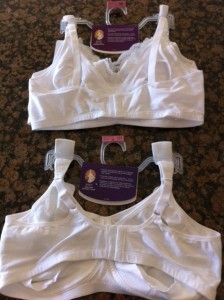 Loving Moments by Leading Lady nursing bras are absolute great products for nursing moms.  They are also extremely affordable and conveniently sold exclusively at Wal-Mart and walmart.com.  Their nursing bras are available in a variety of colors, styles, and sizies.  I plan on buying more and trying their nursing camis when they debut this month. Loving Moments also created a website for new moms.  From product information to sizing assistance and breastfeeding tips, www.LovingMomentsBra.com is the destination for new and expecting moms!
Loving Moments by Leading Lady Giveaway
by Theresa
Loving Moments by Leading Lady and Pampers are teaming up to offer new moms a limited time gift with their purchase of a Loving Moments Wirefree Sport Nursing Bra and a Loving Moments Nursing Bra Tank. When purchasing either of these styles, new moms will receive a sample of Pampers Newborn diapers and wipes. Plus, beginning April 8, Loving Moments is hosting a fantastic contest and giving moms the chance to win a complete Loving Moments nursing bra wardrobe and one year supply of Pampers diapers at LovingMomentsBras.com.
Make sure to follow Loving Moments by Leading Lady on Facebook and Twitter to learn more about Loving Moments products, engage with other expecting and nursing moms like our celebrity spokesmom, LPGA Golfer Danah Border, and be the first to find out about promotions, events, giveaways, and more! And check out our giveaway below…

**Because Loving Moments by Leading Lady is a brand new line, not all sizes are currently available. If your winner's selection is not available in her size, we will accommodate her request with a different style or Leading Lady bra.
Share and Enjoy