This is a compensated post.
We've all probably participated in "Christmas in July" events or sales, I know I have multiple times over. It's fun! Christmas is one of our family's favorite holidays. Each of us has our own Christmas family tradition passed down from one generation to the next, but have you ever started a new holiday tradition? We have started a couple and our children have really enjoyed them.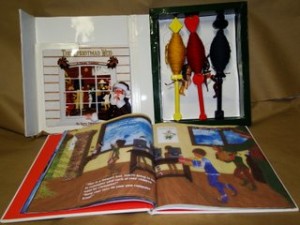 If you are looking to start a new family tradition, consider www.ChristmasWeb.com The Chirstmas Web comes in a gift set – a hard covered, unique story book titled, "The Christmas Web" and three magic wands in nice packaging that can be used as a display as well. It's a very cute idea to have children (or adults too!) find their special Christmas gift by following a literal web.
The Christmas Web retails for $39.99, however, right now there's a "Spring Sale" going on and they are just $29.99. A 25% discount with the code SALE. Just enter the word SALE in the promotional code box to get the 25% discount at www.ChristmasWeb.com. One these are gone the price will go back to $39.99
Direct link: http://www.youtube.com/watch?v=VjAXh74jYZA
We received The Christmas Web and our younger children liked it and said it was a nice idea and a sweet story. A couple of them even asked when we could use the wands and I told them at Christmas. The next question was, "When is Christmas?" Then the children were trying to figure out how long they had to wait! We look forward to creating a new tradition this Christmas. Then again maybe we could try it for one of our children's upcoming birthdays. Whether it's Christmas or in celebration of some other event, I know our children will enjoy having fun following the Christmas web to discover a special treat or gift at the end of the line.

Share and Enjoy