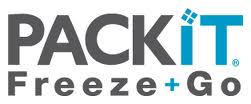 Introducing PackIt – the freezable personal cooler that keeps your food colder, fresher, and safer for longer than you could ever before – up to 10 hours! There's no need for ice that melts or for bulky, toxic ice packs. Simply store your folded PackIt in the freezer until you're ready to PackIt and go!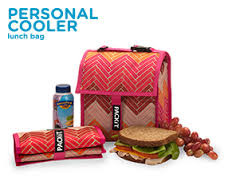 The Original Cool.
Thanks to PackIt's patented freezable gel-liner you can keep your lunch cool – for up to 10 hours!
The Personal Cooler is perfect for school, work, the field or anywhere! Simply store the cooler in your freezer for a 12 hour period, pack with the items you want to keep cool and enjoy!
Features:
Keeps food and drinks cold up to 10 hours.
Patented freezable-gel is permanently built into the liner.
PVC/lead-free, non-toxic, earth-safe, & reusable.
Folds compactly in the freezer for storage.
Dimensions: 8" x 10" x 5" (8" x 5" x 2" folded)
PackIt Personal cooler is available in a variety of patterns and colors.
Reasons to LOVE PackIt
Cooler
PackIt keeps its contents cooler longer – up to 10 hours in fact – and it eliminates completely the need for ice or gel packs
Safer for both you and the environment
PVC-free, BPA-free, lead-free, non-toxic, earth-safe and reusable
Lift a burden off your budget
Over a 30-year career, a person can save nearly $100,000 by packing a lunch
Trendy with the times
Save money, eat healthy and look good while doing it
Download PackIt's 30 day Meal Planner on their website.
Versatile and durable
Perfect for school, work, sporting events, golf, the beach, baby bottles and so much more!
Our Review:
We were pleased to review the new PackIt Personal Cooler in purple.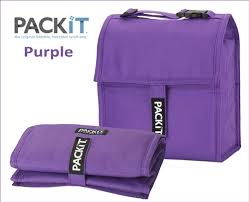 We must admit we LOVE our PackIt! I have 2 older versions of the PackIt lunch bags…but like this new personal cooler option much better! The primary difference is in the handle. In this new version the handle has a strap that can attach to other bags. It has a convenient lock clasp on the handle, which I use to attach the PackIt to my daughters lunch bag. This is SUCH A NICE NEW FEATURE! Since I have 3 children and 3 PackIts…I may have to upgrade the other 2 PackIts to this new handy version!
PackIt not only stores lunches effectively but also folds nicely for storage in the freezer. The bag conveniently folds up and takes little space in the freezer.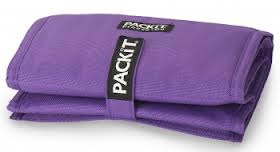 One other added bonus is cleaning! Cleaning is a breeze! The instructions say "Hand wash with mild soap and warm water. Allow to air dry completely with flap open before freezing to prevent frost from forming on cooler. Do not use bleach. Please note that PackIts are not washing machine, dryer, dishwasher, or microwave safe." We found that these instructions keep the PackIt clean and tidy and have not had any issues thus far.
What about keeping lunches cold? This product is AWESOME!!! There are many times when my children bring unfinished content from their lunches home and after a long school day the items are still cold and fresh.
One feature I do like is that there is no sweating… when I used to pack the traditional ice packs in our old lunch bags the ice packs would sweat as they dethawed and make a wet mess all over the contents and the lunch bag… PackIt does not sweat! AWESOME!
Overall, we are PackIt fans! We might have to try some of their other products aside from the lunch bags…as there are so many options…from wine coolers to picnic bags.
For more information about PackIt and other variations of the bag please visit:
Faith and Family Reviews received the following product in exchange for writing a review. While we consider it a privilege to receive free products to review, our reviews are our honest opinion and thoughts of the product.
Share and Enjoy