I received this product for free from the sponsor of the Moms MeetSM program, May Media Group LLC, who received it directly from the manufacturer. As a Moms MeetSM blogger, I agreed to use this product and post my opinions on my blog. My opinions do not necessarily reflect the opinions of May Media Group LLC or the manufacturer of the product.
When I think of making baby food I think of a long day of lots of work, lots of mess, and no fun.  When my son was ready to eat baby food I bought a hand food processor, determined to make my own food.  It lasted for about two days.  The food was always too thick and chunky and I never knew if he was getting enough nutrients.  It was just easier to buy the baby food, even though I wasn't crazy about all of the ingredients in some of the foods.  Now that he is a toddler, he is picky and will only eat certain foods.  If only there was a way to get him to eat more nutritious foods in an easy way…there is!  Introducing the Freshfoods Cook-n-Blend Baby Food Maker, the answer to all of my problems.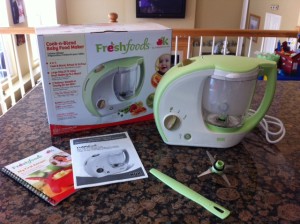 This baby food maker is for the whole family.  It has two different texture settings, smooth or chunky, making it perfect for your growing baby and toddler.  It also has a smoothie blade attachment so you can make healthy smoothies for the whole family.  I was a little hesitant at first to try it, since my previous experience with making baby food was unsuccessful.  Once I pulled the Cook-n-Blend Baby Food Maker out of the box, I thought it looked more like a juicer than a baby food maker.  The size was perfect, it was a little smaller than a 2-slice toaster.  The bowl can hold up to 3.75 cups, or 4 meals.  Putting it together was easy, it came assembled!  I skimmed through the recipe booklet that came with it.  It came with great meal ideas written by world-famous child nutrition expert, Annabel Karmel.  I chose to do the Banana and Blueberry puree, but replaced the blueberries with strawberries.  For some odd reason, my son is not a fan of strawberries so I was anxious to see if he would like this.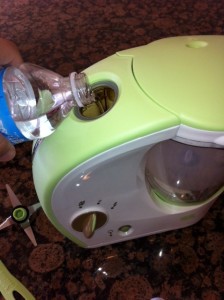 To begin with, I filled the reservoir with water to level 2.  There are three different water levels depending upon what you are making.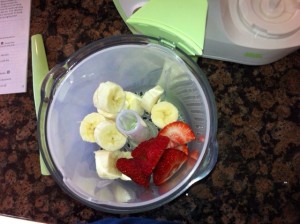 Next I filled the steam basket with three strawberries cut up and a whole ripened banana.  They also include a half steam basket that can be placed inside the large basket so you can seperate foods and flavors.  I love this option since you can easily cook two different items at once.  After I added the food, I placed the lid on top and replaced the canister back into the baby food maker.  I plugged it in and pressed the green on/off button to start cooking.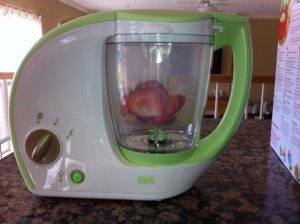 After a a couple of minutes steam started to build up in the steam basket.  The bananas and strawberries began to cook.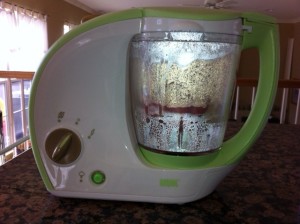 After about 14 minutes, I heard a beep and the green light turned off.  I carefully opened the lid, hot steam came out, and I saw very mushy fruit.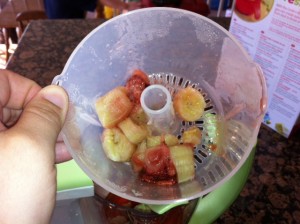 Next I dumped the fruit into the glass bowl that had lots of yummy smelling juice in it.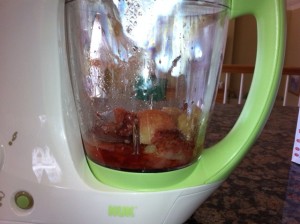 You can then choose which texture you want, smooth or chunky.  I chose chunky so I replaced the lid and turned the knob to chunky.  After about 5 seconds I realized it was fully blended.  I removed the lid and saw a wonderful puree.  It smelled so fresh and looked so smooth, I couldn't wait for my son to taste it.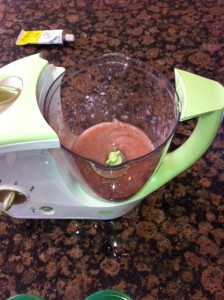 I poured the puree into a 4oz cup and told my son I made special applesauce just for him.  Now remember, he does not like strawberries.  He took a spoonful and said, "Mmmmm, mommy this is good applesauce!"  He gobbled the entire cup and I was thrilled!  That right there, sold me on this food maker.  If I could make my picky three year old eat something he did not like, I could make many other healthy foods in there and he would have no idea what he's eating.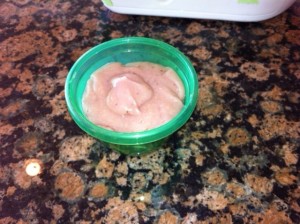 Clean up was a breeze!  Most of the pieces are dishwasher safe, which is exactly where they went.  I wiped the machine clean and placed it back on my counter.  I will definitely be using this all of the time!  Some of the features that I really like are that it is a 4 in 1 baby food maker.  It cooks, blends, reheats, and defrosts.  Since it steams all of the food, it retains most of the vitamins and minerals, making it extremely nutritious and healthy.  With one quick pour you can then blend the food into either a chunky puree for toddlers or a smooth puree for babies.  The Cook-n-Blend Baby Food Maker is extremely versatile.  The instruction manual has a cooking guide which tells you what level water to add for different foods and approximately how long it takes to cook each food.  My only minor complaint on this product is I wish the instruction manual was a little more detailed.  The first time I tried using the baby food maker I was kind of nervous about doing it right.  I thought it was going to be more complicated than it actually was.  After you make the food once, though, you see how easy it is and probably won't even need to look at the manual again.
Overall, I was highly impressed with the Freshfoods Cook-n-Blend Baby Food Maker.  I am anxious to use it not only on my baby who's on the way, but also on my toddler to sneak in some veggies without him knowing.  Freshfoods also offers other great products to help with making your own baby food including Stackable Cube containers to store the baby food and Freezer trays so you can easily freeze your baby food so it is ready when you need it.  Their products are of high quality and are reasonabley priced.  Go to this link for a $20 coupon off a Freshfoods Cook-n-Blend Baby Food Maker and $1 coupon off a Freshfoods accessory:

www.nuk-usa.com/promos/nuk-fresh-foods/blogger
To see all of their products go to their website:
Be sure to like them on Facebook:
To meet other moms working hard to keep their families healthy and living green check out:
Share and Enjoy