Clevamama is a company that strives to create products that make the lives of parents easier.  They sell baby products for bath time, bed time, feeding, and safety.  I was sent four different products to review including an Infant Formula Travel Container, ClevaPortions freezer and storage pots, a Splash & Wrap Baby Bath Towel, and a Clevabath Extra Long Bath Mat.  All four Clevamama products were of great quality.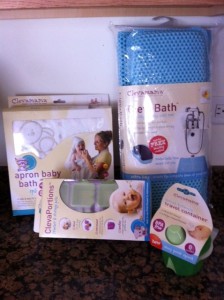 The Infant Formula Travel Container looks similar to other formula containers on the market, but have a few unique characteristics that make it that much better.  It has three seperate compartments to hold three premeasured amounts.  The container is tall so it can hold at least two scoops of formula in each section.  It features an easy pour spout that is longer than others I have tried.  This is a huge plus for me, since sometimes water from the bottle would splash back into the formula container making a mess.  This is almost impossible to do with this formula container.  It also has a secure snap top lid and special finger grips on the side for easy pouring.  Best of all is it is BPA free and dishwasher safe for easy cleaning!
The ClevaPortions freezer and storage pots are a great product for parents who make their own baby food.  It features eight storage pots with individual lids.  Each pot can be removed seperately without using any of the other pots.  Basically, you can make eight different pots and freeze them, and only take one pot out at a time when it's time to eat.  This makes it a breeze for travel in that you only need to bring as many pots as you'll need, rather than bringing an entire tray of baby food.  You also have the option of using only a few pots a time, rather than the whole tray.  Many of the other baby food storage systems I've used you must unthaw the entire tray or try to pop out one of the "food ice cubes" yet more than one would always come out for me!  The whole Clevaportions tray is a little smaller than an ice cube tray.  Each pot holds up to 2oz of food and are safe to use from freezer to microwave.  You can either feed from the pot or push the food out into a bowl.  For me, I just feed right out of the pot.  Who wants to do more dishes? Not me!  The pots are dishwasher safe and see through so you can see what is inside of each pot.  I love this product and highly recommend it to moms!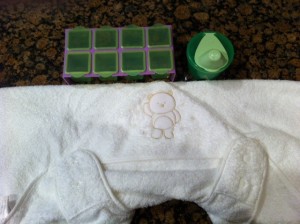 The Splash & Wrap Baby Bath Towel is another genius product designed by Clevamama.  I cannot tell you how many times I have gotten soaking wet from taking my son out of the bathtub.  With this towel, it is almost impossible for this to happen!  The towel features straps that snap around your neck so the towel fits like an apron.  Then you simply lift your baby or toddler out of the tub, place them inside the towel and you can hold them without your body getting wet.  The towel also features a hood, so their head doesn't get cold and straps on each side that you can tie around your waist  (I didn't feel the need to use these).  Wearing this towel like an apron makes it easy to dry your child off since both of your hands are free.  The towel is 100% cotton, is machine washable, and is VERY absorbent.  It fits a newborn all the way through a four year old.  It is ultra soft, even after washing it, and has a cute neutral teddybear on the hood.  This was definitely one of my favorite products!
Lastly, I was able to try out the Clevabath Extra Long Bath Mat.  I love that it covered pretty much the entire bathtub, and not just the middle.  It has many little suction cups all over the bottom to keep it secure to the bottom so it doesn't move.  These did not work as well as I had hoped they would.  Only about half of them would stay suctioned down, but the mat still did not move.  The material is made of a soft non-slip material that is ultra cushiony and dries very fast.  The bath mat also came with a free kneeling cushion.  This was great!  My knees always hurt after bathtime, and this cushion is made with the same material as the bath mat, so it was very soft and very cushiony.  Overall a good product.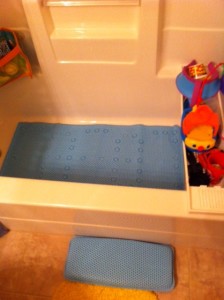 Clevamama offers many unique baby items that definitely make it easier on parents.  I cannot wait to see what they will come out with next!  Check out their website to see where their products are sold.
Faith and Family Reviews received the following product in exchange for writing a review. While we consider it a privilege to receive products to review, our reviews are our honest opinion and thoughts of the product.
Share and Enjoy