Establishing a soothing bedtime routine for your child is the best way to encourage a deep, restful sleep.  I have always thought this way and even do certain routines myself to wind down for the night.  Ever since my son was about a month old we would give him a bath, massage him with cream, read stories and say prayers, and have a bottle.  Now that he is three, we still do the exact same routine except he has a small snack instead of a bottle.  I have always believed that having this bedtime routine and sticking to it, has not only made him a good sleeper, but has helped him to fall asleep on his own.  We even play an ocean sound machine in the background and dim the lights throughout the routine.  I was anxious to try Mommy's Bliss products, since they would only enhance our bedtime routine.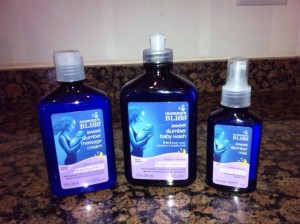 Mommy's Bliss has three products to encourage a wonderful night sleep for babies.  They include a Sweet Slumber 3-in-1 Baby Wash, Sweet Slumber Massage Cream, and Sweet Slumber Mist.  All three products contain soothing extracts of lavender, chamomile, and ylang ylang that are associated with relaxation and sleep.  Begin with the Sweet Slumber 3-in-1 Baby Wash.  This can either be added to warm bath water to make a soothing bubble bath, or added to a washcloth as a shampoo and/or body wash.  My son has sensitive skin so I am always cautious as to what I bathe him in.  I used it as a shampoo and bodywash for him and loved how easily it lathered and rinsed off.  It is a very gentle and mild wash.  Once dry, I applied the Sweet Slumber Massage Cream onto his skin.  It was a very soft feeling cream that made his skin feel silky smooth.  It was also very gentle on his sensitive skin.  Finally, I sprayed the Sweet Slumber Mist on his pajamas, blanket, and pillow.  He asked me why I was doing that, and I told him the sweet smell would help him relax and fall asleep.  He loved that idea!  I even sprayed it on my pillow and felt relaxed immediately.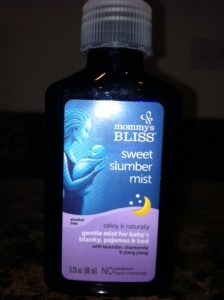 All three Mommy's Bliss products smell amazing.  They have a sweet and calming smell that is not overwhelming or overpowering.  The next morning his bedding still had the lavender aroma.  Mommy's Bliss products are 100% vegetarian & vegan, contain no artificial fragrances or petroleum, contain no alcohol, parabens, or harsh chemicals, and are free of gluten and soy.  These products can be purchased at Walgreens. I am looking forward to using all three Mommy's Bliss products on my newborn to begin a relaxing and soothing bedtime routine from early on.
For more information visit their website:
Faith and Family Reviews received the following product in exchange for writing a review. While we consider it a privilege to receive free products to review, our reviews are our honest opinion and thoughts of the product.
Share and Enjoy