This occurred and was written yesterday.
I was right. Remember the other day I told you about our Animal Control visit, here and here? Animal Control was out again today. The officer was very nice and she said they get at least a call a week about us – or should I say the dog and the chickens. But because she knows there's nothing going on she doesn't come out. She's the same one that came out last June and who drives by our house when she visits her horse at the barn she boards it at. This time she did have to come to check it out because someone reported the dog having duct tape on his paws???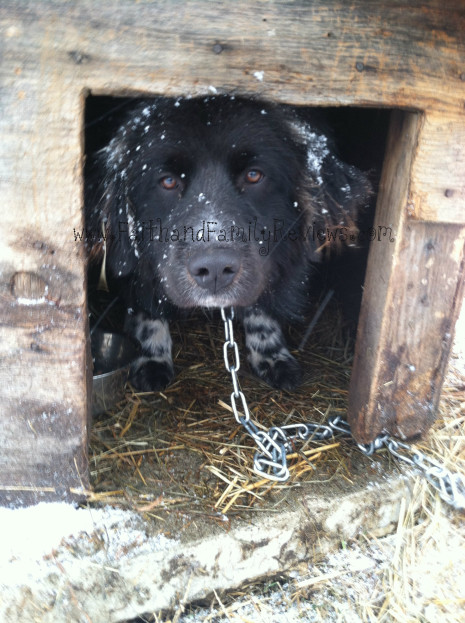 He's sad that Animal Control came again and decided to use his house so people would see that he does indeed fit in it! And look the children put more hay in his house when they moved it and some of it actually stayed in!
Here's the real story. Last week Padfoot broke his plastic covered steel cable that we keep him tied on, so we let him go loose for a while. That was the same day he killed a chicken. When I went to tie him up after his naughtiness the steel was showing through where it broke, it was like steel wool and sharp. I cut my fingers on it trying to re-tie it and knew if we kept the cable like it was it would cut Padfoot too. So because I was needed in the house I sent my daughter out to cover the steel part with duct tape so he wouldn't get cut. There was no duct tape on his paws. That's the story I told her too.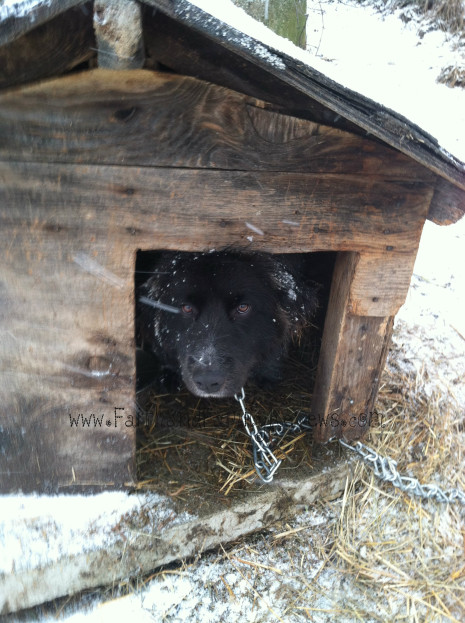 He's wondering when people will start minding their own business and just let us live life together without these cold interruptions.
Today she also took a photo of his paws – duct tape free mind you – and his house, as people driving by don't think his house is big enough for him and she said it is. We are all clear there. Whew. She wanted proof to take back that she did indeed check things out. Hopefully she'll put them in our file so they can refer back to it, especially in case any new Animal control officers come on board.
Thankfully Animal Control realizes we live on a busy road and also realize there's nothing going on here that shouldn't be, but still it's a waste of their time and ours for them to have to keep checking us out when I am sure there are animals out there truly neglected, starving and being treated cruelly who need their time and help.
So how has your week been? Any interesting knocks on your door lately?
Share and Enjoy