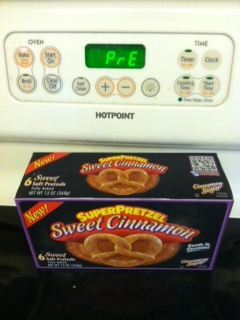 Who wants pretzels for breakfast?  When I announced this in the house Sunday morning.  I got a "Huh?" from my husband and a "Yes!" from my daughter. So off to the kitchen I went to preheat the oven for our pretzels for breakfast.
Move over salt pretzels and make room for SUPERPRETZELS Sweet Cinnamon Pretzels. I was skeptical about these when they first arrived, but I'm willing to try anything once.  I was pleasantly surprised and SUPERPRETZELS Sweet Cinnamon Pretzels, they will be on my list for breakfast, dessert or snack!
How to Serve SUPERPRETZEL Sweet Cinnamon Pretzels
Preheat the oven to 400 degrees, put on the cinnamon/sugar (provided in a packet in the box), and cook for 5-6 minutes. That's it!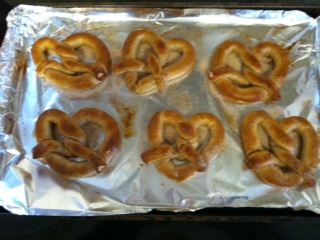 Take them out and enjoy them by themselves or maybe with a scoop of ice cream, or even a little icing.  Sounds yummy to me.
If you head to the SUPERPRETZEL website (www.http://www.superpretzel.com)  there's a coupon.  Be sure to check them out on Facebook and Twitter too!
My house gives these SUPERPRETZEL Sweet Cinnamon Pretzels 2 thumbs up! We love them!
Faith and Family Reviews received the following product in exchange for writing a review. While we consider it a privilege to receive free products to review, our reviews are our honest opinion and thoughts of the product.
Share and Enjoy