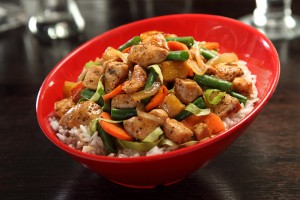 Eating out is a treat for our family, as it was for me growing up. My husband's family ate out a lot and still do. We do not frequent most major fast food places just because they do not serve healthy food. Unhealthy food is never filling and when our children have had it, it leaves them feeling hungry an hour later. We'd rather they fill up on nutritious, healthy foods instead.
Genghis Grill
Genghis Grill is a growing restaurant featuring a unique build your own bowl experience using the Asian stir-fry. According to their website, the experience offers a fun way of cooking similar to what may have been used by 12th century Mongol warriors, led by GENGHIS KHAN, according to an ancient legend. The legend also indicates they used fires to heat their shields so they could grill their food. Now, my boys would love that fact!
Definitely an inspiring little history behind Genghis Grill.
We have never been to Genghis Grill, as a matter a fact, there's only one in the state of Illinois, but it is only about an hour drive from us.

The Food
If the photos are any indicator, the food at Genghis Grill looks yummy! They serve a variety of protein, including ham, chicken, turkey, beef and fish. Their seasonings range from hot cayenne to garlic and lemon pepper. They also give a wonderful choice of yummy veggies. Their sauces are free of MSG…bonus…and sound delicious. Lastly they serve pasta, rice, tortillas and noodles. If you go to their website you can follow the steps and create your own bowl.
When I built my bowl, the calories weren't bad for turkey, lemon pepper sauce, veggies, sweet and sour sauce with some fried rice. However, the sodium measured 1500mg! So those watching their sodium intake should watch the nutritional calculator carefully.
Khans Klub
Genghis has a birthday club called, Khans Klub, which enables those who sign up to receive a FREE bowl of your choice. Happy Birthday to you!
Be sure to visit Genghis Grill's Facebook page and Khans Klub Facebook page as well.
When is the last time you ate out? Where'd you go?



Disclaimer: I received a promotional item for my participation.
Share and Enjoy