Can you believe summer is over? I can't. Sniff. Sniff. Summer is my favorite season. Everyone's been busy with their back to school schedules and acclimating to new routines. I know nearly every weekend in September, October and November we have something one or both days of the weekends. It's mind boggling. With such busy schedules and being out and about more it's even more important to keep in mind our daughters' monthly cycles. Since my girls are still pretty new to having their period I tend to baby them a little.

Back to School with U by Kotex Tween
We homeschool so our girls do not have to worry about going off to school all day and starting their periods, but we do go out places. I have always told them to carry a couple of pads in their purse…just in case they started while we are out. Our older girls are very much girlie girls and love purses and accessories, so it wasn't difficult for them to adapt to carrying pads around. U by Kotex Tween pads are very compact to carry and easy to keep hidden. Last month, my girls received little bags that look like make up bags, which just made carrying pads easier for them.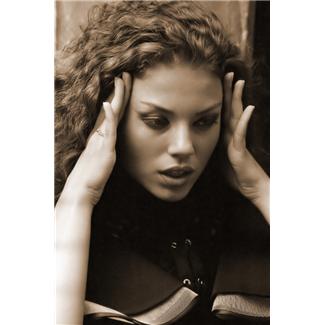 If your girls are in school, then getting a little bag that could pass as a pencil case could make them more comfortable carrying pads too. It would make it less conspicuous in a locker or back pack.
Warning Signs
I've tried to teach my girls to keep track of their menstrual cycle on a calendar so they know when to expect it. This is to help eliminate the surprise element. U by Kotex has a calendar available on their website. Even if they are experiencing irregular cycles at first it is a habit I established as a young girl and wanted them to as well. We all have warning signs that our period is near and my girls know that they are prone to headaches or backaches and probably other things that are escaping me at the moment.
I Remember When…
I remember when I first started my period and going to school. I had to watch what color pants I wore. I even remember asking one of my close friends if she could tell if I was on my period – you know that pad "bulge"? Ugh. These are not very fond memories. I remember being uncomfortable at school when I was on my monthly cycle. Not fun. If I had of had internet access back then, I imagine I would have Googled "pad bulge" or visited a website like U by Kotex Tween to get answers to my questions since I really did not talk to my mom about the subject.
What about you, what are your memories of your starting your period and school? What kinds of things do you do to help your daughter feel more comfortable with her feminine cycle while at school?

"I wrote this review while participating in a Brand Ambassador Campaign by Mom Central Consulting on behalf of U by Kotex Tween and received products to facilitate my post and a promotional item to thank me for taking the time to participate."
Share and Enjoy