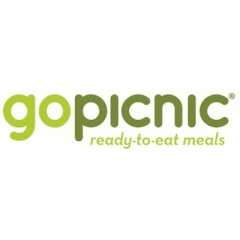 GoPicnic is a company that sells all natural, mostly gluten free, pre-packeged meals for the whole family. They sent us out their Super Best Selling Meal Variety Pack to review.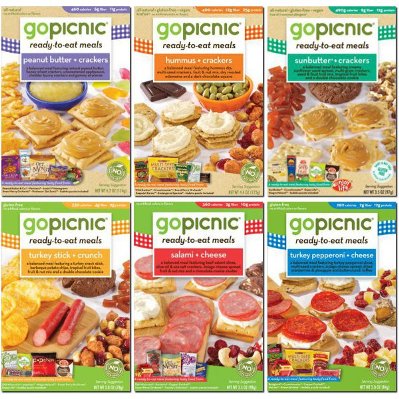 Sunbutter + Crackers- This meal contains creamy sunflower spread, multi-grain crackers, seed and fruit trail mix, tropical fruit bites, and a double chocolate chip cookie. My kids loved everything inside this box. The butter was yummy and the sides were delicious.
Peanut Butter + Crackers- This meal was a huge hit with my little guys. They loved the peanut butter and crackers, the apple sauce, the cheddar bunny crackers, and the gummy airplanes.
Salami + Cheese- My older girls loved this box. It was the perfect size for them and they loved that everything was natural. It included beef salami slices, olive oil & sea salt cracker, Asiago cheese spread, fruit + nuts, and a chocolate cookie cruncher. They weren't expecting the cheese to taste as creamy as it did. Everything in this box was a nice balance.
Tuna + Crackers- I was surprised that my kids actually really liked this box, usually they don't like tuna, but they enjoyed the mix of applesauce, chocolate, seed crackers, taun spread, and the fruit & nut mix.

Turkey Stick & Crunch- Another huge hit was this box. It was sweet and spicy. A perfect mix of turkey sticks, Popchips, a double chocolate cookie, fruit & nuts, as well as tropical fruit bites.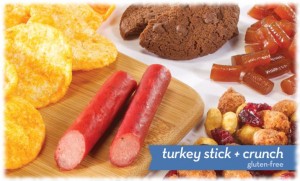 A quick note- Not all of GoPicnic's meals are gluten free. Therefore it is important to read the product packaging and labels because several meals contain gluten.
GoPicnic wanted to create affordable, yet healthy solutions for families or individuals who need to eat and run. We love the concept and will be purchasing their products in the future. They are great for traveling, school lunches, or even for work. With a variety of flavors and packs there is sure to be something that everyone in the family will love.
GoPicnic's food receives a thumbs up from us! I love that everything is all natural and balanced. Everyone in the family loved the products and the idea is genius.
Want to win two meals from GoPicnic? Enter below!!
Share and Enjoy