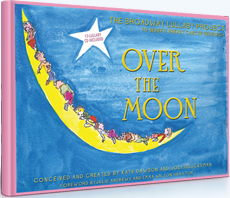 My daughter and I went on an inspiring and peaceful musical journey with Over the Moon – The Broadway Lullaby Project and I invite you to join us. This book and CD are not only fantastic for bed and nap time, it is very calming for adults also.
The Book  – Over the Moon – The inside cover says it best…
It's often said that "a picture speaks a thousand words," that "music is the universal language," that "all the world's a stage," and that lullabies fill the special place where babies and those who love them come together.
I've never read such a true statement. This 48 page hardcover book is beautifully illustrated and written by many artists, each donating their time for the Over the Moon Book and CD. The CD is attached to the back of the book.
The CD – Pop this 2 CD set of 13 songs each in your player.  Sit down and close your eyes and let the music take you on a voyage. The calming flow of the music will take you and your little one away on a mini vacation.  All the artists on the CD have beautiful melodic voices, including Vanessa Williams.
As is said earlier everyone has donated their time for Over The Moon-The Broadway Lullaby Project, which will raise money for breast cancer charities including the Breast Cancer Research Foundation and Yound Survival Coalition.
Visit the Over the Moon Website to purchase your collaboration today!  You can also visit them on Facebook and Twitter.
This is such a wonderful book and CD. My daughter and I have listened to the CDs many times and we have gotten a lot of enjoyment out of them.  Perfect for a new baby or baby shower gift!
Faith and Family Reviews received the following product in exchange for writing a review. While we consider it a privilege to receive free products to review, our reviews are our honest opinion and thoughts of the product.
Share and Enjoy