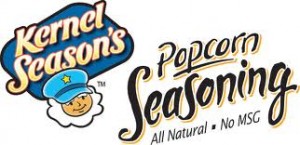 No More Naked Popcorn! Kernel Seasonings is a great way to flavor popcorn!
Kernel Seasonings is an all-natural way to flavor popcorn.
Kernel Seasonings currently offers 22 different flavorings.
OUR REVIEW:
I was excited to have the opportunity to review Kernel Seasonings popcorn flavoring. My children LOVE going to the movie theatre and using the seasonings…NOW there is an at home alternative! We loved that there were so many different varieties of flavorings to choose from…we received White Cheddar, Kettle Corn, Parmesan & Garlic, and Nacho Cheese flavorings. All of the flavors were tasty…my children especially loved the Nacho Cheese!
Overall Kernel Seasonings is a neat way to flavor popcorn. While perusing their website I noticed that there are recipes to use the flavorings in everyday cooking. I have to admit that I have not been that adventurous as to use the flavorings in my cooking… but it is something that I am mulling over. Maybe I will get bold and try the Parmesan garlic with my next spaghetti dish!
Check out the Kernel Seasonings website at www.kernelseasoning.com and see what they have to offer.
Faith and Family Reviews received the following product in exchange for writing a review. While we consider it a privilege to receive free products to review, our reviews are our honest opinion and thoughts of the product.
Share and Enjoy