The Talk. The Birds and the Bees. Period. Sex. The Passage of Becoming a Woman. Menstrual Cycle. Puberty. Whatever name you have dubbed it, if you have daughters, discussing a woman's cycle is inevitable. My husband and I basically have three teen daughters (it will be official next year when our third daughter turns 13) in the house. I talked a bit about our beginning period discussions with my daughters here. As much as I hate to admit it, I am an older mom now in my 40's- don't feel like it though!

– and know I have moms in their 20's reading. I am hoping this post will be provide insight or ideas or maybe encouragement to you, especially if your own mother did not model how to go about having period discussions. A lot of moms feel inadequate, don't we all at some point?

Due to my own mom's lack of initiative in this area, I actually chose to be quite open and honest with my own children about our bodily functions and God's purpose for them. From the time my oldest was old enough to know what my maxi pads were, she knew what they were for and where to get them for me if I happen to start and not have any in the bathroom.
I have always waited for my children to ask questions or for the topic of sex, man/woman relationships or periods to come up naturally, unless the opportunity arose that I could bring it up in a natural way. When these issues were discussed, I gave them enough information for their age, the time frame we had and topic of conversation. I found if I talked too much I lost my older daughter, if she asked more questions after a brief response then I tried to answer with more information. For the longest time with one specific question I responded with, "I know you want to know the answer to that but mommy just isn't ready yet to tell you, but I will when you are older." That day eventually came and it was as natural as a tea party. Seriously. We were sitting on our bed and it came up and I knew she was ready, I was ready and I think even her sister was there and I told them. There was no awkwardness, not until after the fact when I worried that I might not have explained it as best as I could.
The topics we discussed depended on the girls' questions and how our conversation evolved. We would cover how much bleeding would happen, what they were to do if they happened to start away from home, where we would keep our supplies, how long a period lasted and probably more I can't think of.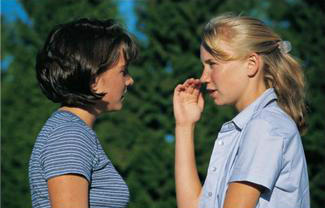 I actually did give them Maidens by Design to look over, with the intentions of us all doing it together, but we never did. If they had questions, they'd ask after reading it on their own. Maidens by Design is a curriculum for mothers and daughters to work through together or host a class for a group of friends. Just a fun twist on learning about something important in a girl's life and celebrating becoming a woman. So much of being a woman is not celebrated anymore, especially compared to some countries.
As much as having a period is an inconvenience, there is a greater purpose for it and I want my daughters to recognize that and embrace it rather than grumble and complain about it all the time. This is something I tried to emphasize when having these beginning period discussions.

U by Kotex Tween is a great resource with a Q & A section to help inspire you on how to have those beginning period discussions. They also offer pads that are designed just for tweens. For more information, please visit U by Kotex Tween on Facebook, Twitter and Hello Period for tweens.

"I wrote this review while participating in a Brand Ambassador Campaign by Mom Central Consulting on behalf of U by Kotex Tween and received products to facilitate my post and a promotional item to thank me for taking the time to participate."
Share and Enjoy