Teaching our children good eating habits is important to my husband and I. Easter weekend my husband even had to convince his mother that our children did not need any Easter candy. Shocking! I know, but that's who we are. Not that we don't eat sweets we do but we are selective and try to eat homemade goodies over pre-packaged ones. My husband finally talked his mom into just buying our children a couple bags of apples and told her they'd be happy. She reluctantly relented. But do you know what our children did as soon as they saw their Daddy bring them in? They asked for an apple and after dinner what did they ask for, yep, another apple! If children have access to healthy food, they will eat it. There is far too much "junk" and chemicals in what is offered on store shelves. Over the years my motto has become, "Read the labels!"
Copy-Kids Fruits & Vegetables DVD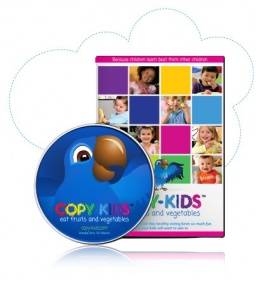 The idea that kids will follow other kids and copy what they eat is not new, it's a given. Monkey see, monkey do…remember that saying? Yep, it goes for kids seeing what their parents and siblings are eating too.
Copy-Kids has created a DVD just for kids to help parents teach their children to eat their fruit and vegetables.
DVD Review
Our little ones really enjoyed this DVD. They liked watching the kids eat their fruit and vegetables. Our older children commented that the kids on the video were playing with their food.
Overall it is a cute video that young children will enjoy watching with their parents.
To learn more visit Copy-Kids.

Faith and Family Reviews received the following product in exchange for writing a review. While we consider it a privilege to receive free products to review, our reviews are our honest opinion and thoughts of the product.
Share and Enjoy