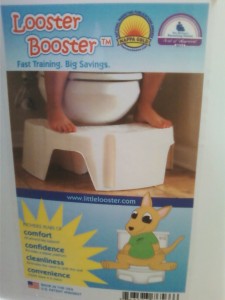 "Little Legs Love The Little Looster", and I couldn't agree more!  This loo stool wraps around 3 quarters around the potty.  It stands approximately 8 1/2 inches tall, the step at it's widest is about 8 inches wide and the shortest is 5 inches wide.  So, there's room to get your child settled.  The Little Looster will make your child feel more comfortable when going potty.  It is very stable and doesn't rock around.  On the bottom are 8 small rubbery circles that will "grip" your floor.
Here's what it looks like around our potty.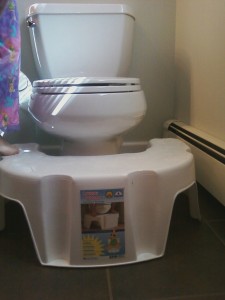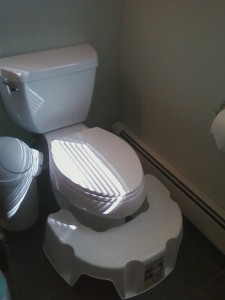 The Little Looster won NAPPA 2011 Gold Medal, TNPC Winner, and 2011 Seal of Approval.
The Little Looster is available at most baby/children's stores and online (http://www.littlelooster.com/).  You can visit them on Facebook and Twitter as well.
My Review -
The Little Looster is fantastic for my daughter, who has progressed wonderfully with this product.  So, that makes me super happy.  Her only complaint was that it wasn't purple.  Mind you it only comes in white.

For the adults, your probably going to have to move The Little Looster to go potty yourself.  But you'd have to move a stool anyway, right?
It's a great product and love it.  However, I found it to be pricey.  So, gather your coupons from your favorite baby/children's store and buy it there.  It really is worth it.  My daughter will be using it for a while or until her feet touch the ground.
Faith and Family Reviews received the following product in exchange for writing a review. While we consider it a privilege to receive free products to review, our reviews are our honest opinion and thoughts of the product.
Share and Enjoy