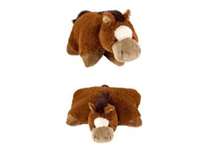 Come sing the jingle with me.  I know you've heard it….
and a 1…..  and a 2……
"It's a Pillow, it's a Pet…  It's a Pillow Pet!"
When Jennifer Telfer observed her sons crunching up their stuffed animals to make pillow out of them, Pillow Pets was born.
Most little kids have a special friend that goes EVERYWHERE with them.  The Pillow Pet does double duty.  BONUS for me – less to carry.  These snugly creatures are very soft and have Velcro under their belly.  They also have a flap to cover the sticky part of the Velcro.  What began as only 6 Pillow Pets is now a huge line, including  Farm, Zoo, Ocean, Fantasy, Sports, Specialty and Disney. Coppins Gifts has a large variety to offer.
My Review:
Sir Horse joined our family and he is very much loved by my daughter.  He has gone from the grocery store to the couch.  Much to my daughters dismay – the other day she found her Daddy taking a nap on Sir Horse.  So, it's a great product even for adults!  I really like the flap to cover the Velcro, it keeps the Velcro clean and it doesn't catch on everything.  Go and buy your kids a Pillow Pet.  Or tell the Easter Bunny to bring one as Easter is coming!!
Faith and Family Reviews received the following product in exchange for writing a review. While we consider it a privilege to receive free products to review, our reviews are our honest opinion and thoughts of the product.
Share and Enjoy