There is nothing like the smell of bread dough rising in the kitchen on nights we make homemade pizza. Can't you just smell it? I can! We use unbleached white flour or wheat, yeast, warm water and salt to make our dough. Occasionally we will put oregano or basil in the dough to give it a different flavor. We will either make deep dish pizza in cast iron frying pans or use the big bar pan from Pampered Chef as our pizza pan. It makes a nice crunchy crust.
It is important to us when we make pizza for our family that we use fresh, all natural ingredients. My older girls and I love to use broccoli, onions, green peppers, red peppers, spinach or even mushrooms on occasion. Really our toppings are whatever we happen to have in the refrigerator when we make it. The rest of the family goes for pineapple, pepperoni or cheese pizza.
As you know, I am trying to lose weight, but I still eat pizza! Our goal is to eat healthier and pizza can be healthy depending upon what you put on it and how thick the crust is and how much you choose to eat. Besides it's one of our favorite foods!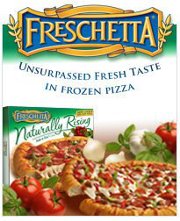 In the Rally For Real Pizza, Freschetta®frozen pizzas desire isn't just to taste better, but be better. "Freschetta®frozen pizzas are made with top-quality ingredients and taste-tested recipes, just to make sure your pizza will always deliver Fresch® flavor. " We have tried Freschetta® and really enjoy their pizzas, therefore can attest to how good they taste. Frozen pizzas are great to have on hand for those busy times when there is no time to make something from scratch.
You can join Freschetta's Rally for Real Pizza by submitting a photo to the Rally Mosaic on Facebook www.facebook.com/freschettapizza. Each week we will select 100 winners — to each receive 5 Freschetta® Pizzas. On March 30, we will also select 10 winners – who will each receive Freschetta® Pizza for a year!


"Faith and Family Reviews occasionally receives compensation in the form of products for posts. However, the opinions I share are solely my own."
Share and Enjoy