For all of my child bearing years, I have struggled with my weight. Actually, I have struggled since I was a child, I just managed it better in my late teens through mid-twenties with lots and lots of exercise! I am currently at my highest weight ever. I have tried to focus on my mothering more than my weight and protecting my girls from the idea that "I am not good enough" subconscious message that the media pushes on all females. I worked hard to instill in them that beauty comes from within not from what size clothing they wear. It is hard when the "thin" message is everywhere we look and most people have succumbed to those thoughts as the norm. I mean look at me I am still entrenched in it! The thing is even a couple of years ago I was ok, as long as I didn't gain anymore but I have and don't want to gain anymore. I am really not happy with my where my weight is now. Yet I still worry if I try to lose weight what message I will be sending to my daughters. It's a catch-22.
However, my youngest is 18 months old and we have a new product through our Cornucopia Health Scents business, I thought I would try something I have never done before in hopes of getting phenomenal results while giving my body nutrition it needs. This new product just arrived last week and we do sell it, so anyone interested, please visit the Lose Weight tab at the top of the blog or visit our business site.
Slique Kit
The Product Description (credit for this goes to Jeanmarie Hepworth and is used with permission):
A Revolutionary New Weight Management System featuring Slique™ Tea and the New Essential Oil Blend Slique™ Essence!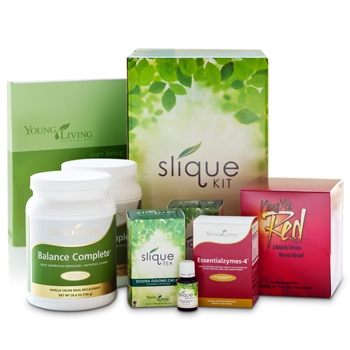 The products in this collection work together to support effective weight management by:
Suppressing appetite and food cravings while increasing metabolism
Providing low-calorie supplements that are rich in vitamins, minerals, antioxidants, and catechins
Helping with the breakdown and absorption of food
There are two kit choices non-vegetarian and vegetarian.
Lose weight and improve your health with the Slique Experience!
My Personal Goal
I have tried a box of the Slique™ Tea on its own when it came out in the fall, but sold my other box at a trade show, so I was excited to try it again. It is really very good. Since it has stevia (a natural sweetener that comes from the stevia plant), no other sugar is needed.
If I am brave enough, I will share my journey with you in upcoming posts. Being a private person, I am hesitant to make myself that vulnerable to be honest, so I haven't quite decided what I will do yet. However, I will take the next few weeks to go through each of the products in the Slique™ Tea kit and let you know how I like them. Then at the end of this series I will be offering a giveaway of one Slique™ Tea kit to one of YOU! ($275/$285 Value) One of the biggest giveaways we have ever had on Faith and Family Reviews! So bring it on, eh!? And be sure to spread the word!
An associate of mine researched other brand name weight loss programs and came to the conclusion that the Slique Tea kit is cheaper than other weight loss programs available. If you have any experience with Nutri System, Jenny Craig or others let me know if $275/month is cheaper.

Share and Enjoy