Talk about living in critterville….my daughter went outside this morning only to discover another dead mouse had joined the first dead mouse in the stainless steel bowl. Fatal attraction? Ha!

Is it the itty bitty amount of food that is the attraction, the stainless steel bowl or a dead mouse spouse? My daughter just said that was awful but I am a little giddy this morning after my super hero candies! Seriously. We were given some candy this week and when my husband brought it home I started, "I wish you'd tell your mother not to send that stuff home." Only to find out it was gifted by another. Ooops. Should have thrown it out but we have been eating it. Or should I say I have been eating it. The children had a treasure hunt yesterday with some of it.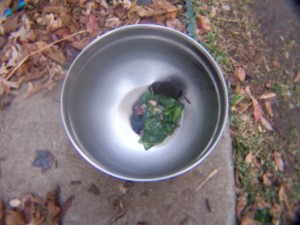 Anyhoo….candy has nothing to do with the fatal attraction of the dead mice, only to do with my sugar high!
So what do you think is attracting the mice to the bowl?
Share and Enjoy